Bo White Keynote Speaker at Injury Board 'Road to Recovery' Training Series
Jun 16, 2020
by Director of Account Services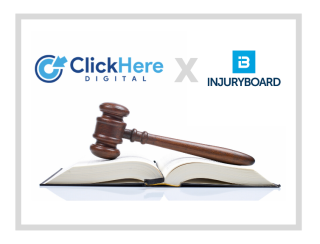 Bo White, CEO of Click Here Digital, was recently asked to present as the keynote speaker for a 4-part online series "The Road to Recovery" hosted by Injury Board. Injury Board is an esteemed association of over 100+ experienced trial attorneys practicing throughout the United States and the United Kingdom. The members of this organization are all board-certified attorneys and are all past, present, and future leaders of various trial bar organizations.
White specified how attorneys can leverage digital marketing and digital communications to stay in constant contact with their clients during this pandemic. He provided over 5-hours of live content over a course of 4-weeks via the Zoom meeting platform. This training included various topics on digital marketing and covered unique strategies that they can deploy to help their law firms stay top-of-mind for their potential clients.
The topics discussed include:
Legal Social Media Advertising
How to Leverage Search Engine Marketing for Law Firms
Google My Business Best Practices for Law Firms
And much more about digital advertising for lawyers!
"It was my pleasure to be associated with a world-class organization like Injury Board during this once in a lifetime downturn due to COVID19...We are looking forward to working with Tom Young and the team at Injury Board for years to come."

- Bo White, CEO of Click Here Digital
Click Here Digital is a full-service digital marketing agency servicing some of the most competitive law firms and attorneys in the nation. Through over 25+ years of experience in the digital space and partnerships with Google, Facebook, and Microsoft, we have been able to continually drive growth for our legal partners. We are humbled to help our legal partners learn more about how they can stay engaged with their customers through every digital touchpoint. Learn more about how our unique
legal digital marketing strategies
can help drive growth for your law firm today!
About Injury Board
Founded in 2001,
Injury Board
is one of the most prestigious, international membership organizations for trial attorneys in the world. The organization comprises of some of the leading trial attorneys and lawyers in the United States and the United Kingdom. The members of the Injury Board fight to preserve the civil justice system and all that the system protects. In fact, over 90% of their members have been in or currently serve, in a leadership position at local or state trial lawyer associations. Most of these members are also local leaders in their communities, sponsoring countless charities and causes. We are proud to collaborate with such a distinguished organization and are looking forward to our continued partnership for years to come.