Cars for Sale on Google My Business - Showcase Your Inventory on GMB!
Feb 24, 2021
by Director of SEO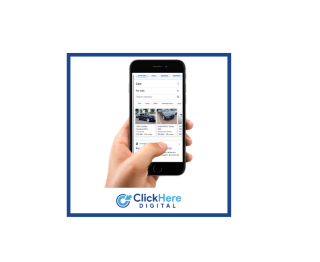 Google My Business's New Feature for Automotive Dealers - Cars For Sale on GMB!
Google is currently piloting a brand new feature for car dealerships on Google My Business,
allowing dealerships to display cars for sale inventory on dealership's Business profiles.
This new feature brings the functionality of your website directly to the search results, allowing people to shop your dealership's inventory directly from your Google My Business listing. The
SEO (Search Engine Optimization) Team
at Click Here has been watching this new feature rollout closely and we have put together the most commonly asked questions about Cars For Sale on your Google My Business.
Since your GMB listing is the most visible listing to any would-be customers, this new feature makes your "digital storefront" easy to use with three clearly defined Call to Action buttons:
Call, Share, or visit Dealer Listing.
What Does 'Cars for Sale on Google My Business' Look Like?
For those dealerships that sign up for this program, a 'Cars' tab will populate on the mobile Google My Business profile, complete with full merchandising and up-to-date pricing. For engagement tracking purposes, the new "mini-vehicle details page", or mini VDP, can include tracking codes to help take credit for traffic through this feature.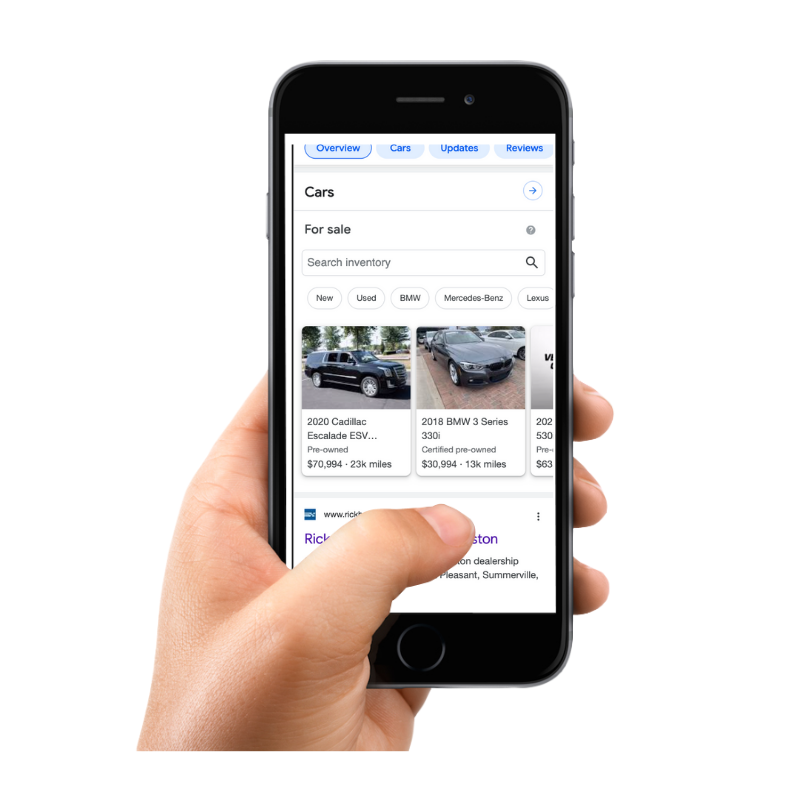 Does Inventory Need to Be Added Manually to My Google My Business?
No! Inventory is fully automated and updated every four hours, removing any sold vehicles while simultaneously populating newly added cars, trucks, and SUVs. If your vehicle is listed with the VIN, pricing, and at least one photo, it will populate on your Google My Business Cars feed.
Can New & Used Inventory Be Shown to My Customers?
Yes! Both New & Used inventory can be displayed. While perusing your inventory through Google My Business, customers can refine their search by new or used, vehicle, and make/model, just like on the actual dealership website. If interested, they can call the dealership directly from the mini VDP or visit the dealer listing to get more information, directions, and more.
Is This A Free Google My Business Feature?
No - This is a paid feature. The "Cars for Sale" update is
NOT
a standard feature on Google My Business so you cannot turn it on yourself, nor can you look at or edit it in the backend of your dealership listing. In order to activate this feature, you will need to sign up with a select approved agency that has access to turn on this feature for you.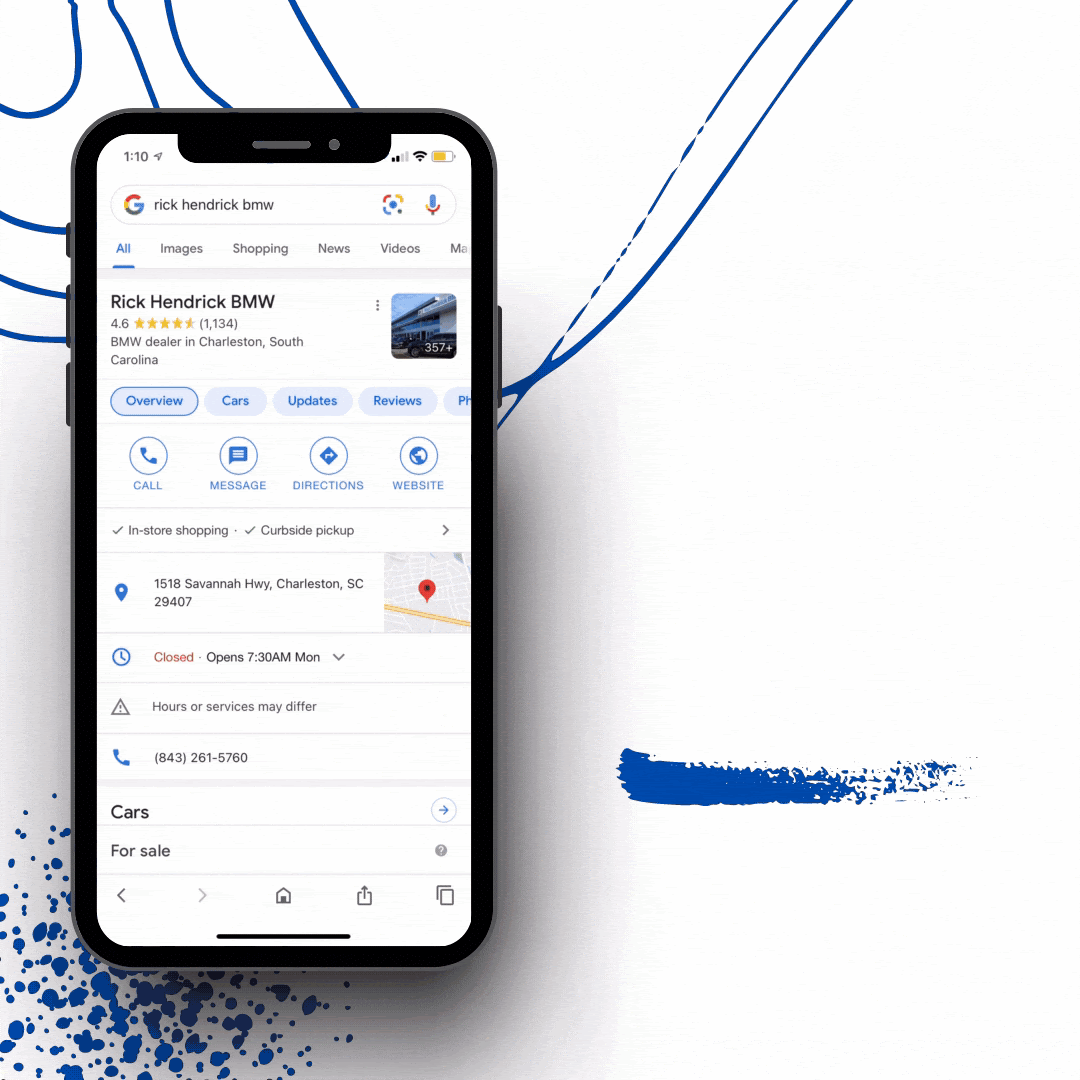 Is My Inventory Shown On Desktop & Mobile?
This new feature started as a mobile- only feature, but is now available on mobile and desktop! While Google may have just released this feature and there are no official metric results that are available yet, Google has been testing this for months and has confidently proclaimed that the addition of this feature can produce an increase in sales.
How Do I Get My Inventory On My Google My Business Listing?
At this time, it is a closed beta for a select few companies. Click Here Digital has submitted their application to be included in this list, and we will be reaching out to our automotive dealers once this feature becomes available to us. To learn more about how this new update can increase sales and drive traffic to your dealership, and to discover the next steps to get started with Cars for Sale on Google My Business,
contact our team at Click Here Digital today
or give us a call at 225-383-0333!