Click Here Digital Launches Amazon Advertising
Aug 16, 2019
by Director of OTT/CTV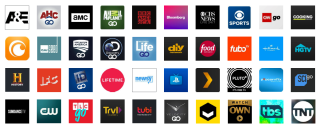 As Amazon expands its empire seemingly into every aspect of our lives, digital advertising and online streaming services continue to be one of Amazon's fastest growing products. In fact, as the world's largest online retailer, its success has begun to consume Google's market share as a search engine — some 54% of online shoppers bypass a traditional search engine and begin directly on Amazon.
Amazon's Connected TV (CTV) and Over-the-Top Television (OTT) services tell a very similar story, as they have essentially achieved market share parity with their largest competitor in the space, Roku. As "cord cutters" move away from traditional cable entirely, OTT and CTV are poised to continue to experience explosive growth. Amazon is in prime position to capture these free-agent eyeballs.

---
What Does This Mean for Advertisers?
Digital advertising is a constantly evolving landscape, and Amazon's emerging dominance in the industry demands that advertisers consider incorporating digital into their strategies. Market share isn't the only advantage Amazon benefits from, either.
All of Amazon's platforms utilize one login, granting them access to profiles' shopping history and purchase preferences, as well as viewing-history from its ancillary products like IMDB. This first-party data translates to hyper-focused targeting capabilities, giving advertisers the ability to serve ads to audiences that will likely be interested in their products.

---
The Power of the Amazon Platform
How do you get your message in front of your target audience at the right moment? That is exactly where Amazon differentiates itself from other Connected TV/OTT product offerings:
Amazon aggregates data from all of its divisions (Alexa, Kindle, Audible, etc.), allowing you to target exclusive Amazon audiences to reach your ideal consumer.
Every ad is full-screen with sound, which means regular TV commercials and ads served on Amazon devices are very similar.
Amazon Ads aren't skippable, so the user has to complete the ad before viewing the rest of the show they were watching. This translates to a 99%+ completion rate.
All content that is consumed and available is brand-safe and licensed content.
To further illustrate Amazon's advanced targeting capabilities in the OTT/CTV space, consider that you can also choose when your ad shows based on the time of day, demographics, and geographics down to the zip code level. Contrast these capabilities with traditional television, and Amazon is far superior in terms of targeting, attribution and viewer-attention.
Finally, your Connected TV/OTT strategy can be enhanced with display advertising that follows users who have seen your television ad. Essentially, your ad won't be seen once and forgotten — the consumer will be exposed to your message multiple times, increasing the likelihood they convert as a customer.

---
Get Ahead of the Competition
A major part of Click Here's success can be attributed to our continued dedication to staying ahead of emerging trends in the digital advertising space. The mass exodus from traditional cable to Connected TV/Over-the-Top Television is accelerating every year, so adding Amazon advertising to our arsenal of products allows clients to follow where consumers' eyes are migrating. Don't get left behind and contact Click Here Digital to learn more about how Amazon Advertising can propel your business to new heights.

---
Sources:
https://www.forbes.com/sites/laurendebter/2019/05/15/worlds-largest-retailers-2019-amazon-walmart-alibaba/#3ec839a34171