Click Here Digital Named a Top Automotive Provider in North America by Facebook
Jun 22, 2021
by Click Here Digital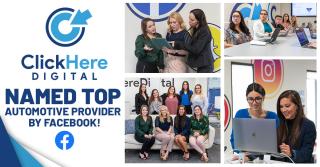 Click Here Digital Named a Top Automotive Provider in North America by Facebook
Click Here Digital is pleased to announce our selection into an elite echelon: we have been named a Top Automotive Provider by Facebook! This list of social media agencies includes the best-of-the-best in Automotive for Social Media Advertising. We're honored that Facebook has recognized our achievements and included us on their
Automotive Top Provider Initiative website
.
Our
Social Media Team
has worked hard to be recognized as a
Preferred Facebook Marketing Partner
for the past three years, and we're even more proud of them for this new achievement! To make it here, we've continuously met Facebook's requirements in the following areas:
ROI & Performance
Ad Spend
Certifications
Best Practices
Analytics & Transparency in Reporting
We're honored to be a part of this exclusive list of Facebook's trusted network of agencies that have achieved Facebook Preferred Marketing Partner status, and with this new announcement, it is safe to say we are among the best automotive marketing agencies on Facebook! When you partner with us for your automotive Facebook marketing, we bring a number of advantages over other marketing firms:
Direct support from a Certified Social Media expert and dedicated Account Manager
28 Years of Digital Automotive Marketing experience and expertise
Exclusive access to Facebook's newest features and beta tests
Fanatical Customer Service boasting 500+ 5-Star Reviews
Click Here Digital is a full-service award-winning digital marketing agency servicing major automotive dealer groups, OEMs, law offices, and SMBs. Click Here is one of the highest-rated agencies in America leveraging state-of-the-art technology and fanatical customer service to deliver industry leading results to its clients. For more information, visit www.ClickHereDigital.com.