Click Here Digital Surpasses 500 5-Star Reviews
Jul 17, 2020
by Click Here Digital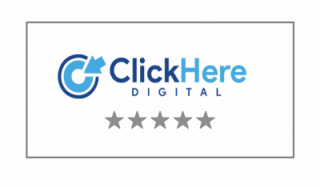 Click Here Digital is proud to announce that we have conquered another important digital milestone by surpassing over 500 5-star online reviews! As of June 1st, the company has acquired over 330 Google 5-star reviews, 179 Facebook 5-star reviews, plus some additional 5-star Clutch reviews.
As important as online reputation is to driving engagement with potential customers, it is something that is often overlooked by other companies and digital agencies. Searching to find another digital marketing agency with the same number of 5-star customer reviews will prove very difficult. Trust us - we've checked!
Rochelle Thomassie, Director of SEO at Click Here states,
" Reviews are a critical component of good SEO (Search Engine Optimization), but more importantly, they're a major signal to your customers that you are a good business partner!"
During our 27+ years of experience in the space, we have found that being able to give personal attention and time to each and every one of our clients is a huge part of our recipe for success. That's why our analysts do not manage hundreds of clients at once. Instead, our paid search analysts, social media analysts, SEO analysts, and account managers service a smaller portfolio. This allows them to give their clients the constant attention and communication they need.

This most recent achievement resonates with what Founder and CEO, Bo White, constantly states about our goal for the company,
"Our focus is to be the best, not the biggest!"
Click Here Digital was founded in the early stages of the Internet and is entering its 27th year in digital marketing and advertising. Having been recognized as a key player in the automotive and legal marketing arena, the company's acclamation is matched only by its dedication to client success. Congratulations to the team at Click Here for such an impactful achievement on business and customer relations. Keep pushing towards 1,000 5-star reviews!