Click Here Joins Forces With LSU Data Science Team
Jun 9, 2020
by Craig Fitzpatrick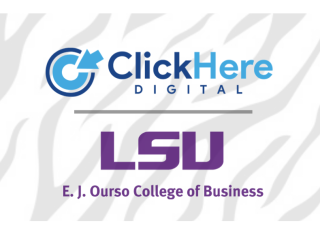 Click Here Digital Partners with E.J. Ourso College of Business
Click Here Digital is proud to announce our partnership with E.J. Ourso College of Business at Louisiana State University!
Click Here and the LSU College of Business faculty have planned out an exciting partnership for 2020-2021 that includes in-person testing of digital ad strategies, adding local talent to our current Digital Marketing Internship Program, and helping in the development of a digital marketing curriculum. We will also collaborate with the professors and marketing students to conduct major research and development projects, beta test new technologies and ideas, and recruit new talent to our own ever-growing "digital marketing university."
Professors from the LSU Business College began working side by side with the Click Here Digital Executive Team in early March to align the Marketing Department and Business School's curriculum toward available and emerging jobs in the growing digital marketing sector in Baton Rouge. Through continuous dialogue and alignment, Click Here Digital was able to place six undergraduates from the E.J. Ourso College of Business into their Digital Marketing Internship & Training program.
Designed to ensure that the most talented graduates remain in Baton Rouge, the Digital Marketing Internship Program allows participants to work and learn on major platforms, such as Google, Facebook and Bing. The program also enables the interns to work in each of Click Here's departments so they may decide an applicable career path.
About E.J. Ourso College of Business
Since 1928, E.J. Ourso College of Business at LSU has been the flagship business college of Louisiana. This respected College plays an essential role in upholding the economy of Louisiana by graduating more than 1,000 future leaders and entrepreneurs every year!
The College of Business prides itself on making it a priority for faculty and students to have the resources they need to further their research into every aspect of the business world. This includes partnering with higher education institutions, corporate enterprises, and other businesses to ensure they are on the cutting edge of business education.
The College of Business has proven that these internships, through fast-paced digital marketing agencies like Click Here, improve their students' skills in communication, leadership, teamwork, and the technical aspects of their industries. If working with industry giants like Google and Facebook excites you, want to be part of a digital marketing agency experiencing hyper-growth, and/or you are ready to earn an "on-the-job Ph.D." in digital marketing,
apply for a career or an internship
at Click Here Digital today or contact us for more information and opportunities.