Click Here Named 2020 Top 100 Private Company
Aug 7, 2020
by Click Here Digital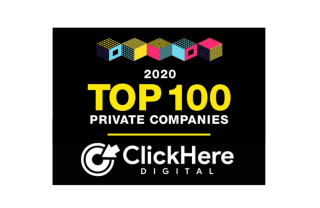 Click Here Digital Ranked Top 100 Private Company for 3rd Year in a Row!
Click Here Digital is proud to announce we have been recognized for the 3rd year in a row as a Top 100 Private Company according to the Baton Rouge Business Report! We climbed in ranking this year as well, moving from 89th in the 2019 report to a top spot at 76th in 2020. But, what are we most proud of? Click Here Digital is the
ONLY
digital marketing company to make the Top 100 Private Companies list!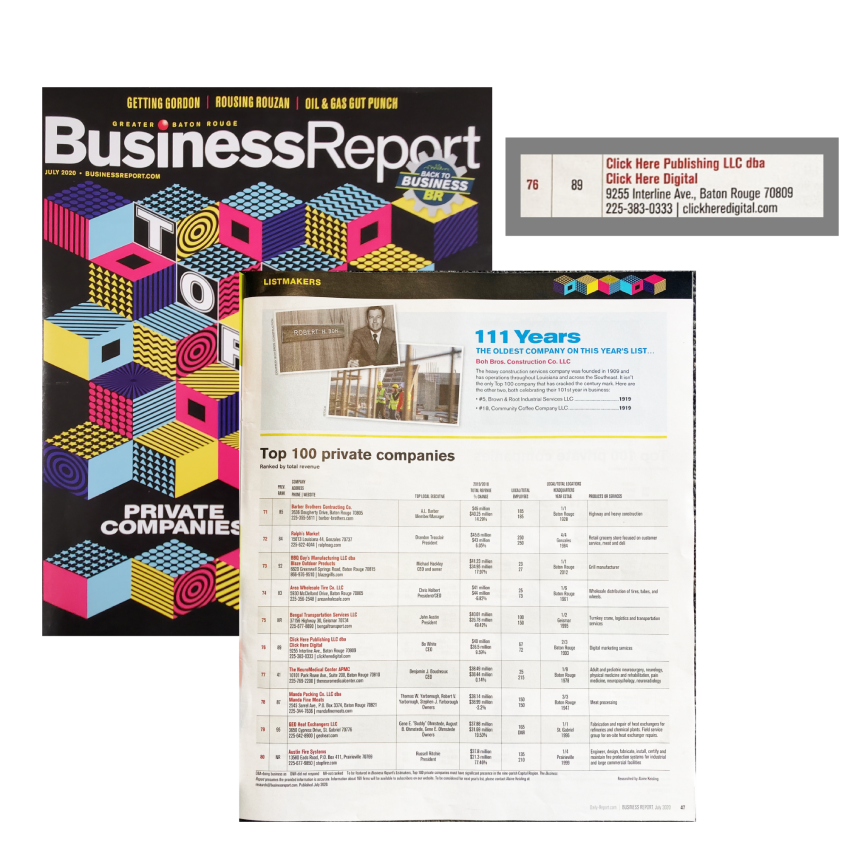 Amidst one of the greatest economic downturns in recent history, we are incredibly proud to be recognized as one of the Capital Region's major contributors to economic growth this year. Landing among major players in the Baton Rouge economy like Raising Canes, Blue Cross Blue Shield of Lousiana, and more, Click Here is humbled to receive this recognition.

Bo White, CEO and Founder of Click Here Digital, stated,
" We are incredibly proud to be recognized among some of the greats in the Baton Rouge area!"
Together, the combined finalists of the 2020 Top 100 Private Companies contributed to total revenue of $25.7 billion this fiscal year toward the economic development of the Capital area. Click Here Digital is honored to be recognized among these finalists and to be able to give back to the wonderful place we call home. Read more about this year's Top 100 Private Companies in the latest
Baton Rouge Business Report
!
About Click Here Digital
Click Here Digital is a full-service digital marketing company with over two decades of experience. Click Here's experience and expertise allows them to provide their clients with the most advanced digital marketing solutions in the industry. Click Here Digital offers
SEM
,
SEO
,
Social Media Advertising
,
Display and Video advertising
, and more. Want to learn more about this award-winning digital marketing agency? Click here to read more about our
industry awards and recognition
!