Click Here Publishing is Now Click Here Digital!
Jul 15, 2019
by Bo White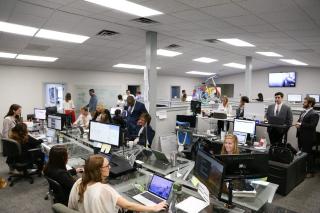 After 25 years in the digital marketing industry, we have officially changed our business name to Click Here Digital. This strategic name change aims to clarify the ongoing direction of our renowned digital marketing agency. Click Here Publishing has been a full-service digital marketing agency for over two decades...now we have a new digital name. With industry insights and over two decades of experience, we create enterprise digital marketing solutions driven by data.
"When I founded Click Here Publishing over two decades ago in the early stages of the Internet, the word 'digital' was not used in the industry. Website design and development was called 'Internet Publishing' and that is where our original name derived. With our reputation continuing to exponentially grow, the name 'Publishing' no longer depicts the services we provide. As leaders in the digital space, adding 'Digital' to our name better reflects who we are," -Bo White, CEO.
In the early 1990s, after years of dot-com consulting for large companies, Bo White started Click Here Publishing. Mr. White saw a need for businesses to start building their digital presence and therefore started Click Here as a web design company.
A decade later, Click Here Publishing added marketing services to our repertoire, and have evolved to become an elite full-service digital marketing agency handling digital marketing for some of the top automotive groups, law firms, and E-commerce businesses in the country. At Click Here, we specialize in audience targeted search engine marketing (SEM), social media advertising, search engine optimization (SEO), and video advertising, including YouTube, Connected TV, and Programmatic Video. Our official name change to Click Here Digital was made effective February 1st, 2019.
Because of our experience and our top performance metrics, we have been nationally recognized by industry leaders as a Google Premier Partner, FCA Digital Certified Partner, Bing Partner, and Facebook Partner. Our comprehensive marketing strategy and hands-on consultative approach provides solutions for businesses in a variety of industries including Automotive, Legal, Medical, eCommerce, and everything in-between. Our goal at Click Here Digital is to connect every business with real humans to navigate the ever-changing digital landscape.
Digital Marketing Services We Offer:
Pay Per Click / SEM
Social Media Advertising
SEO & Website Optimization
Digital Video Advertising
Connected TV / OTT Advertising
World-Class Reporting
Why Work With Us
We offer a full strategic, client-driven approach that works to drive digital marketing solutions. Our team uses the latest technology and software to ensure every advertising dollar is maximized to reach your fullest return on investment. With us, there is no ticketing system, or waiting 7 days for a response- our team of full-service digital consultants are a phone call away, any time, any day. We are not just another agency- we are your business partner.
From evaluating client goals, budget and traffic to increasing leads and sales, we provide an individualized, turnkey digital marketing service for our clients. Our constant training and industry knowledge are best in class. As one of the highest-ranked digital agencies in America, our reputation speaks for itself- just read our Google reviews! While our name has changed, our award-winning service has not. Want to get in touch with our digital marketing experts? Contact our team today to learn more about what we can do for you and your business.