Click Here Ranked LSU 100: Fastest Growing Tiger Businesses
Sep 16, 2020
by Click Here Digital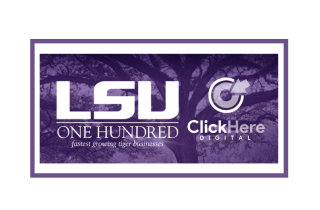 Click Here Digital Ranked On LSU 100 Fastest-Growing Businesses!
This week LSU announced their list of the Tenth Annual LSU 100: Fastest Growing Tiger Businesses and Click Here Digital is proud to announce that we were named one of the Top Businesses in the world. This is a huge accomplishment for our team as the LSU Top 100 is a highly competitive program that identifies and awards the fastest growing LSU alumni-owned businesses in the world. Click Here Digital is honored to sit among some of the fastest-growing and progressive businesses in the world and represent the great university of LSU.
Holly Hingle, Vice President of Operations and Partnerships, stated,
"Watching the rapid growth of our company over the last several years has been both exciting and inspiring. It is amazing to see how far we have come, and where we are heading with all of the new talent and ideas coming through our doors"
We are humbled to be recognized by this great university and have them to thank for many of the talented digital marketing experts at Click Here Digital. Our staff is composed of a vast majority of LSU Alumni and graduates, making us very proud to boast this new distinction. We look forward to strengthening our ties to the university and to our community through our continued partnership with LSU.
About LSU 100 Fastest-Growing Tiger Businesses
This year marks the Tenth Annual LSU 100: Fastest Growing Tiger Businesses. The LSU100: Fastest Growing Tiger Businesses (or LSU 100) recognizes and celebrates the fastest-growing Tiger-owned or led businesses in the world. In addition to celebrating the growth and success of the honorees and their businesses, this provides a forum to pass lessons on to the next generation of entrepreneurs in the greater Baton Rouge area. The program was created to offer praise, education, networking, and assistance to entrepreneurially-minded students, faculty, and businesses. The LSU100 showcases these successes in various different industries and professions including technology, oil and gas, insurance, healthcare, design, construction, manufacturing, public relations, and more. For more information on the
LSU 100
, you can visit their website!
About Click Here Digital
Click Here Digital is an elite team of digital marketing experts. With over 25+ years in business and exclusive partnerships with Google, Facebook, and Bing, we know exactly what it takes to give our clients the competitive advantage they need to win. Click Here is a full-service digital marketing company offering our clients
Search Engine Marketing (SEM)
,
Search Engine Optimization (SEO)
,
Social Media Advertising
,
Display & Video Advertising
,
Connected TV/OTT Advertising
,
Creative Services
, and more. Utilizing our full-funnel, omnichannel approach, we have proven successes for some of the most competitive
automotive dealers
,
lawyers and law firms
,
healthcare professionals
, and
small businesses
in the nation. Learn more
about Click Here Digital
today and what it truly means to experience the Click Here Effect!