Click Here Wins 2020 Best Advertising Agency Award
Jun 22, 2020
by Click Here Digital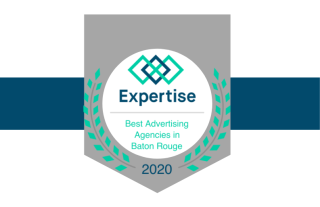 Click Here Awarded Top Advertising Agency by Expertise.com
Click Here Digital was recently selected as one of the top advertising agencies in Baton Rouge according to Expertise. We are proud to be recognized as a top candidate against over 51 other agencies reviewed in 2020. Expertise is a credible online resource for identifying the top service professionals in over 200 different industries including Automotive, Health and Wellness, Finance & Insurance, and more. Hand-picked and curated through a precise performance assessment, Click Here was a top scorer in all criteria for agencies in the digital marketing space.
The selection of unique criteria judged included:
Reputation
Credibility
Experience
Availability
Professionalism
Click Here Digital is proud to have met or exceeded the criteria in each of these respectable categories thanks to over 25+ years of digital excellence and premier partnerships. We know how absolutely critical each one of these criteria is when selecting a digital partner for life. That's why we strive to embody each one of these, so you are certain that you have a partner you can trust.
Reputation
We love it when our clients speak for us! Our reputation precedes us with over 500+ 5 star reviews on Google and Facebook. See for yourself, by
checking out our reviews
!
Credibility
As Google and Facebook Premier Partners, we are held to a higher distinction or excellence than most other agencies. You can rest assured knowing your digital marketing is in trusted hands!
Experience
We truly believe that EXPERIENCE IS EVERYTHING! If your digital provider does not have extensive experience in digital AND in your unique vertical, how can they properly consult you on your business? Arm yourself and your business with experienced experts!
Availability
At Click Here, you will NEVER wait on hold or in a ticketing system line to make adjustments to your digital campaigns. We understand how critical timing is to the success of your campaigns and how important it is to be able to make adjustments in real-time. When you partner with us, you have access to a digital consultant backed by a team of experts 24/7!
Professionalism
We believe in the value of true collaboration and partnership with our clients! This means we believe in TRUE transparency, not just showing you the good stuff. We are focused on getting you the best return on your investment no matter what it takes!
When you partner with Click Here, you are investing in a true digital partner for life! Our reputation, credibility, experience, availability, and professionalism are just a few of the many reasons why Click Here was awarded Best Advertising Agency in Baton Rouge by Expertise.
Schedule a demo or contact us
today to learn
"Why Click Here"
for yourself!
About Expertise:
Expertise identifies the top professionals through a variety of industries and service categories including legal, automotive, home repair, retail, and more. Expertise helps customers locate the best in the business, so whether you're searching for a new or used car, auto glass repair, or a personal injury attorney due to a recent accident, they provide top picks for any service you may need.