Click Here Works With Facebook Engineers
Sep 28, 2018
by Director of Social Media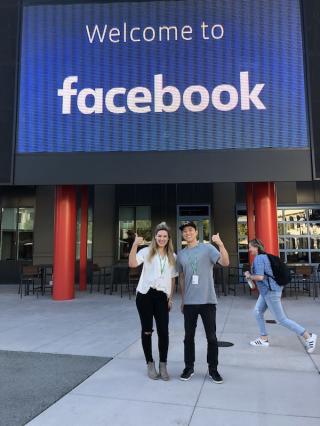 Last week, our Facebook marketing team was able to fly up to Menlo Park, CA for an invite-only Automotive Dynamic Advertising DAA meeting at Facebook HQ. This was the first time we had visited Facebook's main HQ and were excited to share some of our knowledge and product experiences with Facebook automotive partner managers and DAA developers.

The day started out with a small tour and free coffee/snacks at one of their break stations. Fun fact: Facebook employees enjoy free breakfast, lunch, dinner, coffee, and ice cream! Facebook's employees often joke that instead of gaining the Freshman 15 they gain the Facebook 25!
Getting Down to Facebook Business
Once we got settled, we were introduced to a few senior partner managers, product developers, and technical developers. The purpose of the trip was to sit 1-1 with product developers to show them the challenges and opportunities we face with setting up dynamic inventory ads for automotive dealers. As a top automotive agency, Click Here Digital was one of only four companies present for this exclusive meeting.
Facebook Automotive Goals
Facebook's primary goal was to get greater implementation of Dynamic Automotive Ads (DAA) from the auto industry as a whole. Presumably, Facebook's secondary goal was to get more consistent use across the board to be able to measure success rates, collect better data, and invent future products based off of the DAA technology developed.
What's Changed for Facebook DAA Ads 2018
The Facebook product team made major changes to DAA feed requirements after we expressed the challenges we face with receiving consistent information from automotive feed providers. Facebook has changed some of the required DAA feed columns to optional after realizing that some of the required feed columns were often incorrect, incomplete, or missing from product feeds altogether.

Previously, columns like latitude, longitude, address, drivetrain, transmission, condition, and fuel type were required to upload automotive products. All of these columns were made optional this month. Another change made to automotive feed columns was adding "Days on Lot" after receiving numerous requests to segment aged inventory and promote those exclusively.
Common Challenges with Facebook DAA Ads
Some agencies have trouble launching DAA ads because they require more feed columns than Facebook's original catalog integration, Dynamic Product Ads (DPA). As you can see below, it is often much easier for less technical agencies to continue to run DPA versus DAA. Although much harder to implement, DAA is preferred for automotive because it pulls more automotive-specific signals to get the best audience, engagement, conversions, and remarketing possible for your particular business objective. DAA ads are more personalized and will filter based off of each ad-viewers preferences. When working with your advertising agency, be sure to clarify which dynamic ad type they implement, because the results can be very different.
Required Columns for DAA
Vehicle ID
VIN
Make
Model
Year
Body Style
Description
Exterior Color
Image URL
Mileage Value
Mileage Unit (MI or KM)
URL
Title
Price
State of Vehicle (New/Used/CPO)
Changes to Facebook DAA Ads
Transmission (made optional Sept 2018)
Drivetrain (made optional Sept 2018)
Fuel Type (made optional Sept 2018)
Trim (made optional Sept 2018)
Availability (made optional Sept 2018)
Longitude (made optional Sept 2018)
Latitude (made optional Sept 2018)
Condition (Excellent, Good, Fair, Poor) (made optional Sept 2018)
DPA Required Columns
ID
Availability
Condition (new, used, refurbished)
Description
Image Link
Link
Title
Price
Brand or GTIN/MPN
DAA ads are like snowflakes in the sense that no dynamic inventory ads shown will be the exact same.
This ensures that your ads remain highly relevant and personalized to each person who receives them.