Facebook Automotive Playbook
Jun 28, 2019
by Director of Social Media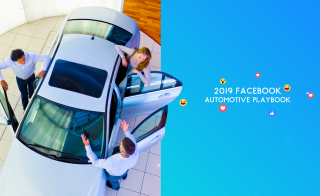 Last month, Facebook launched the Automotive Playbook for Dealers. This free playbook answers many common questions dealers across the country have - What is the best strategy on Facebook? What's the most successful Facebook vehicle ad?
The newly-released playbook also gives a step-by-step campaign setup guide, from recommended ad objective down to suggested audience targeting.
Within the playbook are interesting facts about vehicle consumer behavior, and additional reasons why you should be advertising on Facebook at all times. Interestingly, 80% of car shoppers in the last six months visited Facebook during their decision to purchase. In order to reach these shoppers, dealers must have an "always-on" Facebook strategy to make sure your dealership is getting in front of all in-market shoppers.
In addition to an always-on message, Facebook also recommends a full-funnel advertising strategy. The funnel for automotive Facebook advertising is broken out into four parts:
Why Buy Here

Ready-to-Buy

Customers for Life

Drive promotions and events
Why Buy Here
Facebook revealed just how undecided today's car shoppers are. While shoppers are extremely informed, 78% of people who plan to purchase a vehicle in the next 3 months still don't know where they will purchase. Pushing your "Why Buy" message with a Reach or Local Awareness ad will help influence those shoppers to choose you.
Ready-to-Buy
With the increase in inventory integration, the second part of the automotive Facebook funnel focuses on showing your available inventory to ready-to-buy shoppers. Click Here Digital has sees a 4x engagement increase when promoting vehicles from your inventory versus stock ads or single lease offers. This past year, Facebook ads show relevant vehicles to interested shoppers, and no two inventory ads shown are the same. This is the most personalized way to reach customers ready to make an auto purchase.
Customers for Life
Facebook has pushed advertisers to utilize their first party data (customer lists, CRM contacts, contest entries) as much as possible. Having a "Customers for Life" strategy will keep your customers coming back. Ideas for advertising include lease renewal reminders, service reminders or coupons, and special offers for unsold customers.
Promotions and Events
While event response ads have not had the best ROI in the past, Facebook is now pushing auto dealers to give events another shot. Facebook page events can be up to two weeks long.
Dealers can help boost their in-store traffic by promoting tent sales, car seat safety classes, performance car meetups, seasonal sales, and more through Facebook's promotions and events objectives.
Don't Settle for Just One Type
Dealerships need to market their brand just as much as their auto inventory. Facebook finds that dealers who utilize the full funnel of ads, from low-funnel to high-funnel, see greater results versus those running a single-funnel strategy. Take time to plan your social advertising message starting from why buy, down to the seasonal offers and promotions.
Click Here Digital specializes in full-funnel digital advertising solutions. Contact us to enhance your social media ads or help utilize your existing first-party data for a better return on investment.