Facebook Introduces On-Facebook Destination Ads
Oct 19, 2020
by Director of Social Media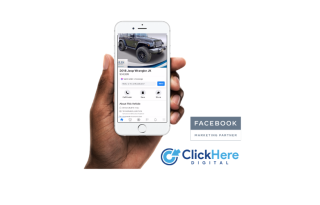 Facebook Introduces "On-Facebook" Destination For Automotive Inventory Ads
Last year, Facebook launched an enhanced version of the Automotive Inventory Ads (AIA) in hopes of making ads on Facebook more relevant to people interested in buying a car. Facebook quickly realized there was a potentially better way to help dealerships increase profitability from their Ads. And so, Facebook began testing and creating what Facebook & advertisers are calling "On-Facebook Destination For Automotive Inventory Ads".

As a top Facebook Preferred Marketing Partner, Click Here was asked by Facebook's Team to be one of the pioneers for the start of "On-Facebook Destination" ads. Facebook and Click Here worked together to conduct several beta tests for this new product. From this beta test, our Social Media Team was able to provide valuable metrics and data to help aid the Facebook Development Team in fully launching this new product. After months of close collaboration with Facebook, they released On Facebook Destination for Automotive Inventory Ads (ODFAIA) for all agencies. This is designed to advertise both new & used inventory while providing a smoother user experience on the Facebook platform and to generate better results for dealers at a cheaper cost.
This was a huge launch, which brought the same success dealers were having with USED marketplace listings to sponsored NEW marketplace listings. Formerly, the marketplace-type interface was only available for used vehicles. These new ads earned the nickname "On Facebook VDP Ads" because of the user experience. Instead of landing on a dealer's VDP page, the VDP lives within the Facebook app.
How do On-Facebook Destination Ads work?
Inventory carousel ads are served in various placements across Facebook's platform, including Marketplace. When a user clicks on a vehicle within the carousel, they are directed to an On-Facebook VDP (Vehicle Description Page). This On-Facebook VDP page is generated by Facebook based on the information available in the inventory feed, much like a marketplace listing does. From there, a user can send a Facebook message inquiring about the vehicle, click to call the dealership, click to get directions to the dealership or click to visit the website for more details.
Who is Eligible for On-Facebook Destination?
Currently, this is only available for the automotive space & for dealerships that have an inventory feed set up with their provider. On-Facebook Destination for AIA is eligible for both new & used inventory.
Why On-Facebook Destination Ads?
If the above isn't enough of a reason to try out On-Facebook Destination for Automotive Inventory Ads, we have outlined some other key reasons this could be beneficial to test for your dealership below. These reasons include 1) offering a more frictionless customer experience 2) getting more efficient with your campaigns and 3) reaching more of your in-market shopping during their customer journey. Learn more about the benefits of On-Facebook Destination for Automotive Inventory Ads (AIA) here.
1. Get more efficient with your campaigns:
On average and in several Beta tests, driving ads to an on-Facebook destination reduced cost-per-lead by 82% and cost-per-content view by 17% versus a website destination[1].
Interested in learning more about how "On-Facebook" Destination For Automotive Inventory Ads can benefit your dealership? Speak to one of our
Social Media Experts
today or
Contact Us
for more information.