"Google My Business" Rebrands to "Google Business Profile" : Here's What That Means for Your Business
Dec 7, 2021
by Click Here Digital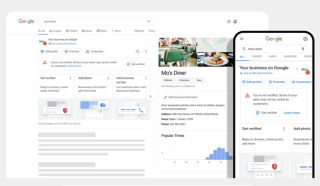 Google recently announced
its popular local business tool was getting a name change and a makeover. Google My Business is now known as Google Business Profile, and makes it easier for business owners to update their Google listings directly in Google Search and Google Maps, reply to reviews, and more.
While these changes will streamline most of your dealings with Google's marketplace tools as a business owner or manager, they might be a little confusing at first. Let's look at Google's newest changes and what those mean for you in 2022 and beyond.
New Name, New Features, Same Product
Google Business Profile has been through a few names in the past: originally Google Local, it was renamed to Google+ Local, Google Places, and most recently Google My Business before the current name. However, each iteration has had the same goal: making it easier for business owners and managers to keep their business's information up-to-date on Google listings, interacting with customers, and more.
With Google My Business, we had a dedicated My Business app, but that will be replaced in 2022 with direct interaction on Search and Maps, which most of us probably already have installed on our smartphones. Along with this change comes a number of innovative features, including the following:
It's far easier to claim your business on Google Business Profile
You can directly reply to customer messages from Google Search and Maps
Using Call History, you'll be able to see which inbound customer calls came from your Business Profile
You can more easily respond to reviews and answer questions
To manage your Business Profile on Google Search or Maps, first make sure you're logged into the Google account that verified the business. You will see the following features in the search results when accessing your Business Profile: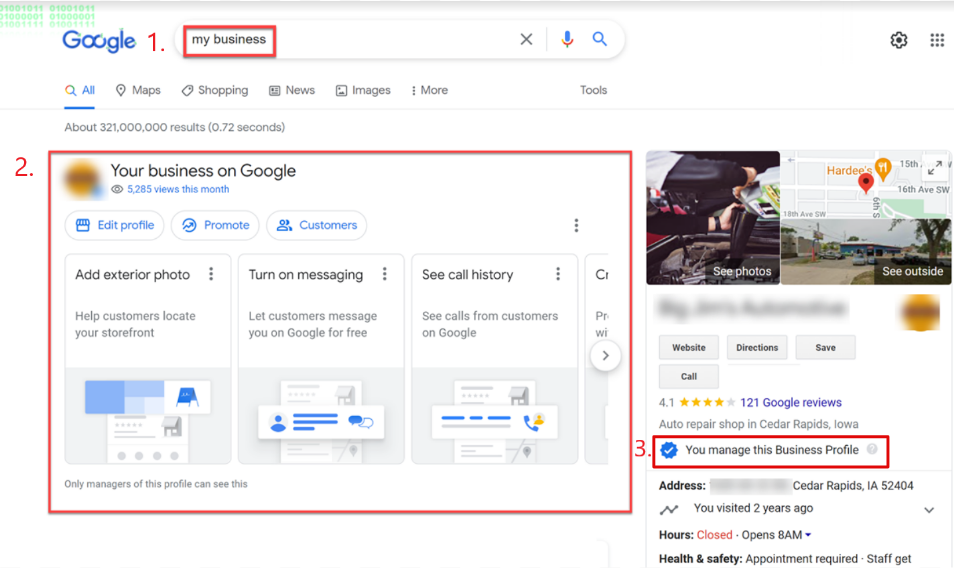 Here's how to access your Google Business Profile:

In Google Search, enter your business name or "my business"
In the Google Maps app, simply tap your profile picture and select "Your Business Profile"

Edit your business information, provide updates and interact with your customers directly from Search or Maps!
This badge is only visible to those that manage your Business Profile.
If your business has more than 10 listings on Google, you'll still be able to access your information using a Google-My-Business-like dashboard called the Business Profile Manager. The same is true if you have a managed SEO presence, like Click Here Digital provides.
Why Do I Need Google Business Profile?
To rank as highly as possible on Google search results for your business, you need to claim your Google Business Profile—but even after you've claimed it, you need to keep it updated with accurate information and new posts highlighting your inventory, available services, and other vital information about your business.
In fact, according to a study by Ipsos Research, an up-to-date Google Business Profile provides the following benefits over a non-optimized or non-existent one:
It's 2.7x more likely to be considered reputable.
It gets 7x more clicks.
It's 70% more likely to attract physical location visits.
It's 50% more likely to lead to a purchase.
Because anyone can make a change to a Google Business Profile listing, it's even more important to periodically check your listing to make sure it's accurate.

What does Google Business Profile mean for my business?
If you're administering your current Google My Business profile yourself or in-house, you'll have to train your people on the new system, and maintain your own practices for the maintenance of your Business Profile. These changes will make it easier than ever before, but it's still another operational task you or your marketing agency will need to update regularly.

At Click Here Digital, we've been keeping track of the latest local SEO trends for over 20 years. We take the time to keep our clients' Business Profiles up to date and properly optimized, month-to-month, day-to-day, and year-to-year. We also provide you with the tools to further enhance your listing to keep your business's style front and center, and stand out from the crowd of other search results.

So focus on your business—and let the professionals handle your Google Business Profile.