How to Choose the Best Automotive Digital Advertising Agency
Apr 14, 2020
by Bo White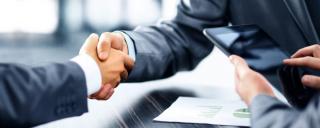 Click Here Digital has been in automotive marketing for over two decades and we have seen many ad agencies & automotive software companies come and go. We have been fortunate to be ahead of the curve, but over the years, we have seen some definitive tell-tale patterns or mistakes that dealers make when interviewing and investing in a new digital ad agency.
Here is a quick list of the most important things to consider when looking for a new digital advertising agency.
1. Experience Matters:
Years of experience is often overlooked. There are many agencies that have less than 3 years of experience. Do these companies have enough wins & losses to be experts? Do they have access to exclusive Google, Facebook, Oracle, and audience data? In the ever-changing digital space, experience matters.
2. Employee Head-Count to Client Ratio:
It's easy to brag about how big your staff is: "We have 20 employees...200 employees...or even 2,000 employees". But what is the agency's staff to client ratio? This will often determine how much focus your account gets. Does the account team manage less/more than 20 clients? The industry norm is closer to 40 clients per person. At Click Here, we limit the accounts per account manager to ~15 so each client gets the necessary attention.
3. Technology & Reporting:
Anyone can "buy media" but how well? In order to be great, you need to have tools that track ROI. Ask your agency what tools are used to track conversions, record phone calls, track conversions per campaign, and how transparent is the reporting. It's a hard conversation for most general managers because you're not a technologist, so what is best? In the end, your reporting should show clearly how much money is spent per ad, and the result of that spend (how many clicks, calls, leads were generated). Today, digital advertising is all about targeting, and knowing which targeting tools are used is important. For example, Google Display & Video 360, Search Ads 360, Oracle, and Amazon have the most advanced targeting data in the industry.
4. AutoIQ:
What is the agency's automotive expertise? Most agencies spend time explaining how they are good at digital marketing, but are they automotive experts? I think the most important questions that a dealer should ask when interviewing an agency are "What is your level of automotive knowledge?" and "How knowledgeable is the person assigned to my account?" Test them by asking what CRMs they like best, what is an "RO", and what are the average set/show percentages for lead handling. Most dealers look at the digital bells-and-whistles, but they fail to ask the important question, "Do you know my business?"
How can an agency manage your account if they don't know your business in full detail?
5. Reviews & Certifications:
Always check your potential agency's reviews & ratings. Your customers do it every time they shop for you. You use reviews to pick where to eat dinner or what to buy on Amazon. You should do the same when shopping for an agency. For example, Click Here has
over 300 Google 5-star reviews
, over
200 Facebook 5-star reviews
, and several 5-star reviews from Clutch; most of these are from dealers. Another tip is asking for a list of company awards or certifications (ex; Google Premier Partner, Facebook Pro Partner).
6. Contact Frequency:
The popular question that does get asked, "How often will I talk with your team?" However, the better question is, "I would like to meet at least 1x per week. What will we discuss?" Digital budgets, unlike traditional, can be flexible and move within a given month. Pacing should be a key topic. Evaluating month-to-date performance per model, what is converting the best and what is not converting is crucial so that spend can be reallocated. Yes, this takes time, but this is how the best-in-class manage their digital advertising investments. Require frequent communication on things that actually move the needle.
7. Set & Forget:
The questions above all lead to this topic. Most of the very large "OEM providers" have to build campaigns to deploy and be managed for 1000 or more clients. This means cookie-cutter. This means automation. Ask the following questions: 1) Do you build each account by hand? (or is it just a copy/paste push-button deployment?), 2) What is automated versus being custom-built within my campaigns? 3) Will my budget be the same each month? (hint: It shouldn't be) 4) Do you plan for 5-weekend months, thrust months, etc.? 5) How often is ad copy, creative, ads, keyword bid, and analytics reviewed? (Is it daily, weekly, monthly?)
A few bonus questions might be:
8. Who is your largest account and your smallest account and how do you manage them differently?
9. Who is your longest standing account? How do you help them win year after year and keep things fresh?
10. What is your methodology in regards to 3rd parties, how best to leverage them, what is the total budgets I should allocate towards them?
11. Do you specialize in automotive only? Many times agencies that work in other industries are much more balanced and have more innovative solutions because they aren't one-dimensional.
We hope this list helps you when deciding on a new digital ad agency. If you are in the market for a new digital partner, we feel we are one of the industry leaders and would be happy for you to ask us these or any other questions!