How To Choose The Best Legal Digital Marketing Partner
Aug 24, 2020
by Director of Account Services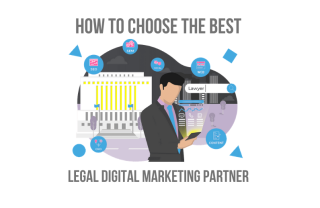 Top 7 Tips For Choosing The Best Legal Digital Marketing Partner!
We know that finding the best legal digital marketing agency can be an arduous process. Vetting different agencies and vendors can be time consuming, stressful and expensive, so we want to help you in your search for a legal digital marketing partner for life. Through over 25+ years of legal digital marketing experience, we have been lucky enough to work with some of the top law firms and lawyers in the nation and even internationally.

Our legal partners have helped us compile the top 7 tips for choosing the best legal digital marketing partner for your firm:
1. Experience Matters:
Does your potential
legal digital marketing agency
have the years of experience to help you out of tough situations? Your partner should be your digital guru who has the experience and knowledge to know the right digital strategies to use at the right time.
How many years of experience does your potential digital marketing partner have in the space?
Over 25+ years of experience in the space allow us to afford our clients all of these opportunities and more. We've been lucky enough to have seen it all, so we know how to handle it all!
2. Enterprise-Level Technology:
Is your digital marketing team backed with the right tools and technologies to help your law firm succeed?
Your
legal digital marketing partner
should be deep diving your campaigns down to the keyword level and invesitgating how to help your site rank better in search in minute detail. This is very difficult without the help of enterprise level technologies like Search Ads 360, DV360, SEMrush, and more. Our teams utilize these and many more just as major companies like Zappos, Amazon, Expedia, etc. do. These enterprise level technologies allow us to deliver meaningful adjustments and results for our clients in real-time!
3. Reviews & Certifications:
Have you checked out the online reputation of your potential legal digital marketing partner?
You use reviews to decide on where to eat, what products to buy, and what services you use. So, why would your digital marketing agency be any different? It's also important to see if your potential digital marketing team is staying up to date with the industies latest trends and certifications. If your team is not keeping current with what Google says is best, how do they know how to help you suceed? Our team of experts uphold over 500 + certifications from Google, SEMrush, and other industry giants to stay up to date with the latest digital trends. And with over 500+ 5 star reviews, we let our clients speak for us. Chek out our hundreds of
client reviews and testimonials
and see for yourself!
4. Transparent Reporting:
Does your current legal digital marketing agency only report on the wins?
Your digital marketing partner should provide you with all of your data and campaigns, not just the good stuff. If your agency is only providing you with the wins and not pointing out key opportunites, how will you get better results? Through our state-of-the-art, custom reporting Portal, we are able to share all of our clients data, campaigns, and any changes made (not just the good stuff) with them in real-time! The Portal also allows both of our teams to make necessarry adjustments quickly, so we don't lose out on any potential clients or cases.
5. Contact Frequency:
Does your current provider only communicate with you at the end of the month to present on results from the previous month?
We believe the key is true partner-style collaboration and communication. This means frequent updates and communnications to touch on performance, needs, and adjustments. At Click Here, we are in constant communications with our clients. We have daily, weekly and monthly touchbases to ensure performance ideal and that we are driving real results for your law firm.
6. No Set & Forget:
Many of our legal partners tell us horror stories about previous providers who just set and forget their campaigns and strategies. With the ever-changing digital landscape, if you are not making adjustments to your campaigns and strategies, then you are essentially wasting your money and your time. Our legal experts at Click Here are fine tuning and adjusting our clients' campaigns and strategies daily, weekly, and monthly to find what works best to drive more leads and qualified cases to your firm.
7. Legal/Law Firm Knowledge:
How can your digital marketing partner consult on what is best for your firm if they don't know enough about your business?
Your
legal digital marketing partner
should not only be your guru in digital, but your guru in legal, as well. You need a partner who understand the ins, outs, and nuances of the legal industry. Click Here has a team of incredibly knowledgable legal experts who are ready to help drive growth for you firm. With over 25+ years of experience working with some of the most competitive lawyers and legal firms across the nation, we have what it takes to be your best legal digital marketing partner to date!
We hope these tips help you when choosing the best legal digital marketing partner for your business. If you are in the market for a new digital partner, we at Click Here Digital know we are well equipped to surpass these priorities and more. We want to be your
legal digital marketing agency
for life!
Contact us
today to ask us these or any other questions.