My Service listing is outranking my main, primary listing on Google My Business- What do I do?
May 13, 2021
by SEO Director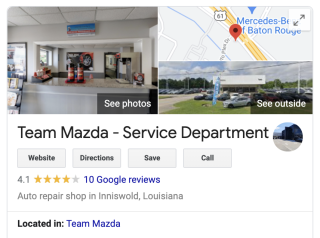 Within the last year, we have seen a dramatic increase in secondary Google My Business listings (Service, Parts, and Collision Center listings) outranking the main, primary sales Google My Business listing in the search results.
What can be done to help resolve this issue?
Optimize & Differentiate!
Each department listing must be individually optimized for that particular department, and distinctly different from any other department listing to prevent this situation from occurring in Google's organic search results.
What can the business owner do when this happens?
The business owner can 1) Immediately alert our team, and 2) provide our team with interior and exterior photos of the departments to populate on the listings. This includes photos of the service bay, front desk, parking lot, signage, and even customer/salesman photos and community events. Adding photos to a listing helps show both users and Google that the listing is being actively managed and helps improve organic rankings and relevance for the listing. (Photo examples below)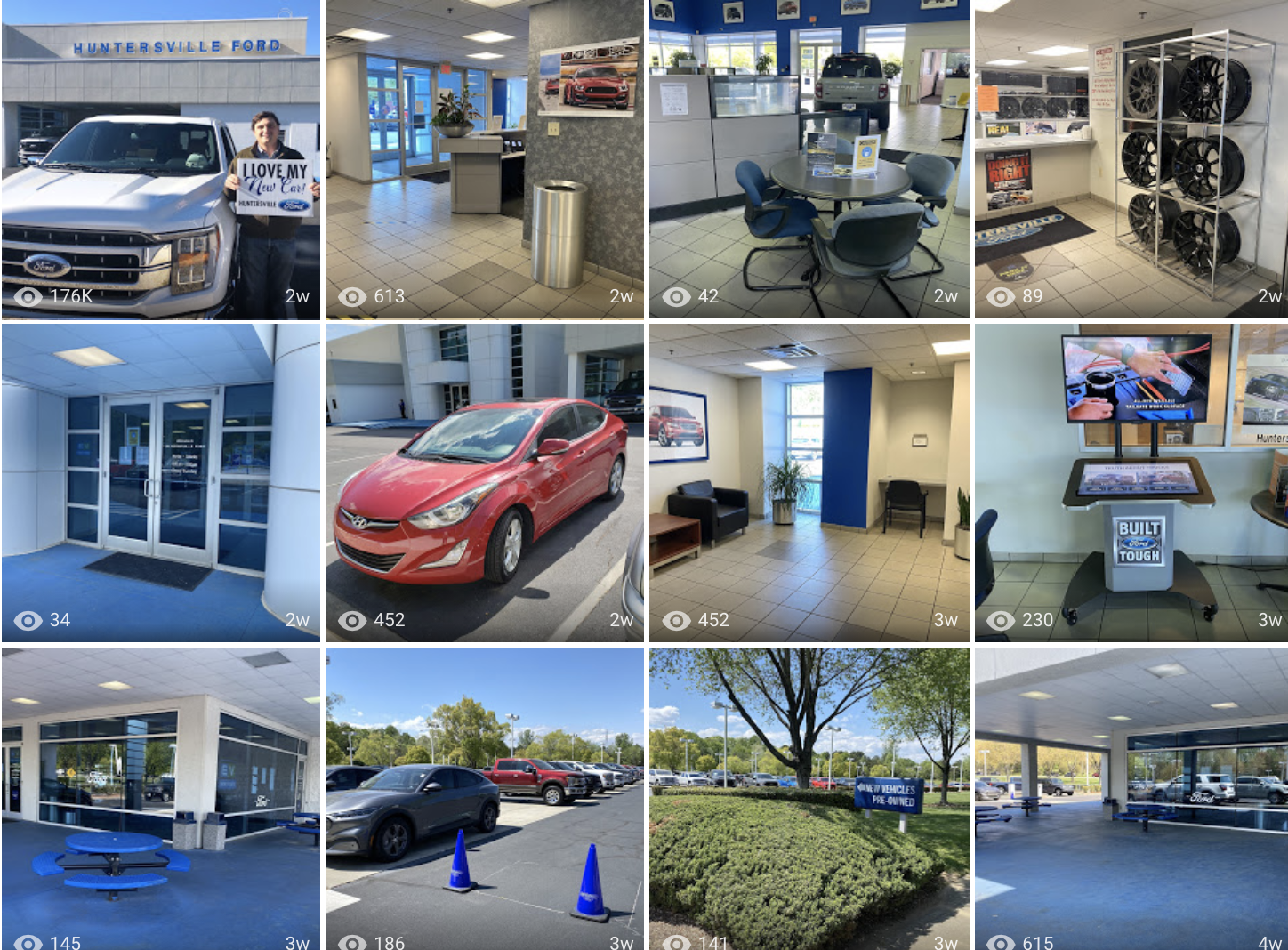 Other than providing photos, the business owner will simply need to alert us of the issue and no further action on the business owner's part is needed. Click Here Digital's SEO team has a refined process and a multi-step checklist to ensure the listings are individually optimized and differentiated.
WHY IS THIS HAPPENING?
There are many reasons the situation of a parts or service listing outranking a main listing can occur. Unfortunately, Google will not reveal the exact answer. Secondary listings, or Service/Parts listings for the automotive industry, have caused significant disruption within Google My Business and within the organic search results since their inception in 2019.
There have been two major updates since these secondary listings have been released by Google:
FIRST UPDATE:
Allows car dealers to have an individual GMB listing for each BRAND represented at the dealership.
This is mainly targeted at FCA dealerships, which include Chrysler, Dodge, Jeep, and Ram. This allows for a listing for each brand, a service listing, a parts listing, and a primary listing.
This does NOT apply to used car dealers.

SECOND UPDATE:
Allows Service and Parts listings to be 'nestled' in the primary listing. What this means is that the Service and Parts listings will be located as a subsidiary within the primary listing. When you look at one of the secondary listings, you will see 'Located In: Main Dealership' This signifies that Google recognizes that the secondary listing is a part of the main listing. You will be able to see an hours breakout for each listing from the primary listing, as well.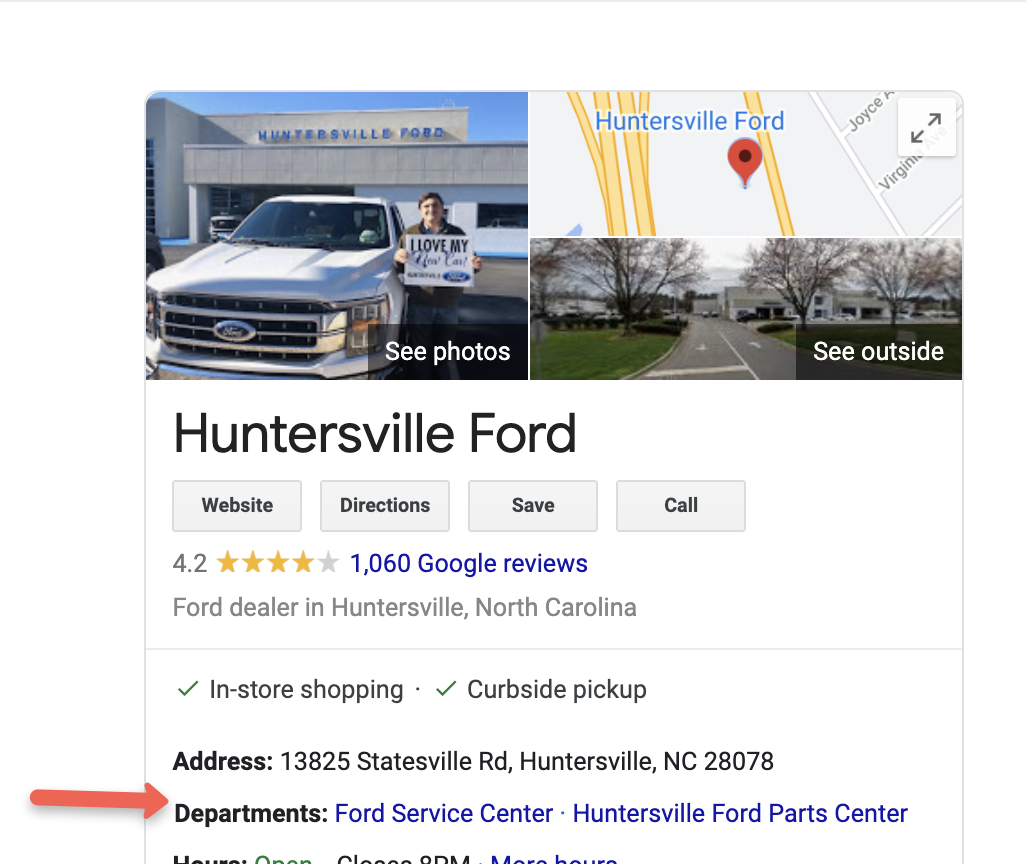 Examples of issues experienced with the service/parts listings:
Google dropping additional pins for a service listing after listing has been created, resulting in duplicate listings
Significant increase in sus pensions of main listings and service listings (as more listings are created, higher risk for duplicates & suspensions as Google is concerned with fraudulent activity and wants to 'protect' the business- in turn, causing more problems)
Main listings not ranking for brand terms
Main listings not ranking AT ALL/disappearing from search results
Service listings outranking main listings for brand searches- causing influx in calls to Service department
Service listings completely taking over/dominating the search results and the main listings dropping off in the search results; typically service listings have FAR less reviews than the main listing, (since the listings are newer) and the reviews are lower stars, so this ends up creating bad optics for the dealership. (Ie- showing 5 reviews and a 2 star rating VS showing 1000 reviews and a 4.3 star rating)
Additional Information About GMB Service Listings
You cannot simply 'delete' a listing that is verified and in the search results. You can remove a listing from our management (which does not remove it from the search results) mark it as permanently closed, or merge it with another listing.
We have seen the quickest and highest success rates by removing the brand name from the secondary GMB listing (ie- changing 'Team Toyota Service' to 'Toyota Service') and adding photos to the main listing.
Questions about Google My Business or automotive SEO?
Get in touch with our expert digital consultants at Click Here Digital
to learn more!