The 4 Biggest Takeaways from Google Marketing Live 2019
May 30, 2019
by Bo White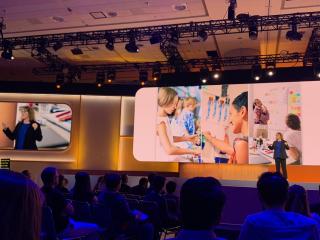 Each year Google invites top executives and operators from their Partners around the globe to Google Marketing Live, a weekend-long event announcing major shifts in direction for Google's ads and products. This highly-anticipated event generates hype for the upcoming year and inspires Google search advertisers with user data, case studies, and insights from their vast reach into the lives and actions of internet consumers.

---

Google's Major Themes In 2019
At this year's Google Marketing Live conference, three main themes were outlined from the very beginning of programming on Day 1:
Ads should be helpful, providing the right information and making it easier to find.

Advertising is evolving with the changing consumer journey.

Data usage in advertising should be done so responsibly.
With the hyper targeting capabilities available through Google's Display & Video 360, which is a single, integrated tool that helps media teams work together to execute end-to-end campaigns, we have the ability to serve ads to almost any specific audience imaginable.

To do this effectively, marketers must serve content that is relevant to and specifically designed for each audience. This means that content and messaging must be more customized than ever before to appeal to these particular audiences.

---

1. Video Ads & Use of A.I.
Google's unskippable six-second bumper ads have proven to be the most effective video formats for effectively generating an increase for brand recall. To reduce the barriers of entry to buying digital video, Google has launched a tool called Bumper Machine. We can make a longer (90 second) video, and the Bumper Machine will use artificial intelligence to identify 3 shorter, 6 second videos, from the content uploaded. The Bumper Ads recognizes and identifies:
Brand Logo

Human Faces

Motion

Contrast

---

2. New Ways to Reach Customers On Google Maps
Mobile growth is the largest influence on consumer purchasing behavior for the past year. To capture the mobile market, you must seize on the opportunity to assist in a shopper's purchasing decision before they ever make it to your storefront or showroom. Local Campaigns aim to help drive foot traffic from Google Ads, and Google reports that these campaign types have helped brands drive 5x incremental return on ad spend from their business locations.
With this knowledge, Google is adding advertising options to Google Maps, such as:
Promoted Products

Promoted Pins

Promoted Locations

---

3. Grow Your Reach With Gallery Ads
With over half of online shoppers reporting they use images to make their decision before purchasing, Google has been planning a lot of ways to make search more visual for some time now. It has been reported that over 25% of Adwords Ads in Q1 for 2019 were graphical, not text. Google announced two new ad formats that Automotive advertisers will be able to deploy strategically:
Gallery Ads Across the Google Display Network
Drive 25% more engagement than text ads

4-8 Images, each with unique taglines

Can test up to 3 headlines and calls to action

Very similar to Facebook Carousel Ad format
Click Here Digital's team has been deploying programmatic display ads across the internet on premium placements like Groupon, ESPN, CNN, Accuweather, etc. for months now. This new ad type will allow our Automotive clients to continue to show consistent ad content across the internet, including their best performing social media carousel ads - as Gallery Ads from Google.

---
4. Responsive Search Ads
Google's responsive search ads have been in Beta for a while now, but they've announced their plans to roll them out! Google's giving these ads more character real estate than expanded text ads, and they are using machine learning to optimize your ad creative optimization.
If you give Google more options of what to show the user, their machine learning will test the different headlines and ad text combinations until the higher performing set is found. Some benefits to using Responsive Search Ads we've identified are:
Set up as many as 15 headlines and four descriptions

Show up to three headlines instead of two.

Show up to two 90-character descriptions instead of one 80-character description.
At Click Here Digital, our team of digital marketing experts are pioneers when it comes to Display and Video 360, Gallery Ads and Responsive Search Ads. Constantly staying ahead of the curve, we bring our clients the latest technology and advancements to make every advertising dollar go further.

If you want to learn more about Google's new products and how we utilize them for our clients, get in touch with one of our Google-certified experts at Click Here Digital today.

---