The Future Of Programmatic Marketing: Click Here Digital Attends Programmatic I/O Conference October 2021
Nov 2, 2021
by Click Here Digital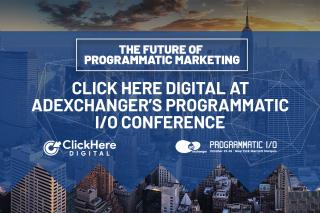 Click Here Digital traveled to New York City to attend AdExchanger's Programmatic I/O Conference this October. Our team sat among innovators and industry leaders and, over the course of 2 impactful days, gathered game-changing insights on digital strategy, Connected TV, identity targeting, and the future of programmatic marketing.
Privacy Concerns Are Prompting Change
Consumers are becoming increasingly aware of the data economy and governments are introducing new privacy laws—forcing media platforms to revisit their data collection practices. With potential impacts on cross-site/app tracking, as browsers and operating systems limit cookies and MAIDs globally, utilizing first-party data pools & contextual/behavioral targeting methods will be key to driving success in a cookie-less world.
Connected TV Viewership is Rising
According to research from Magnite, one of the world's largest independent sell-side ad platforms, 40% of US households (approx. 55 million) can only be reached by CTV. As the cord-cutting trend continues and more households are no longer reachable by cable/satellite via a traditional linear TV connection, it is clear that an omni-channel strategy that includes CTV is necessary in order to hit audience reach goals, especially for the younger generation who are cord nevers.
There Are New Trends To Consider For Video Creative
Vertical Video Has Won
The rising trend of vertical video consumption is undeniable. Stories are everywhere (TikTok, Snapchat, Instagram, Facebook, Whatsapp, etc.) and consumers are drawn to this format: TikTok has already overtaken Youtube for average watch time per user in the US (BBC). According to Tinuiti, one of the largest independent performance marketing firms, brands must fully embrace storytelling in vertical videos as a primary creative unit of digital activation.

Videos Are Being Read, Not Heard
Research from Sharethrough, an innovative global ad exchange, shows that 75% of people often keep their phone on mute, even when a video is playing. This isn't news to us. However, the same study points to a new behavioral trend in which people expect videos to have captions so that they can read as they watch in order to comprehend the meaning. 72% of people are more likely to watch a video on their phone (80% on their computer) if it has captions. Reading is growing as a complementary (and necessary) visual to video content. Audio and flashy movement is no longer enough to maintain a viewer's attention. New products, like dynamic captions, are emerging to address this demand for readability and deliver higher comprehension/performance. For many viewers, what they read on a video can change how they comprehend the video's sound.
Here is an example of a from TikTok that changes how a viewer interprets a short auditory phrase after reading various alternative captions.
Publisher Partnerships Are Key
In a post-cookie environment, targeting and measurement will rely heavily on access to 1st-party data. Large publishers with prime data pools are likely to shift into the role of identity solution provider and create new data/audiences for partnered marketers. (Re)establishing direct relationships is a pivotal preparation tactic. Click Here Digital is proud to work directly with publishers such as ESPN and other partners like Amazon, Hulu, Roku, Pandora, and Spotify to bring our client's guaranteed buys, premium inventory, and direct access to the customers they want to reach on the placements they want to reach them on.
Programmatic Buzzwords To Know Right Now
Walled Garden
What It Means: Any closed platform or ecosystem that lends significant control over data/hardware/content to a dominant technology partner.
Why It Matters: Walled Gardens (in tech) claim ownership of a large amount of data that is often withheld from independent AdTech companies. This makes cross-device targeting and attribution difficult—especially as the industry enters a cookieless landscape.
Privacy Sandbox
What It Means: "Launched by Chrome in 2019, the Privacy Sandbox is a collaborative, open-source effort to develop a set of new technologies in the form of web standards" aimed to both protect consumers' privacy online and develop business-friendly tools. (Google)
Why It Matters: When Google announced that it was getting rid of third-party cookies, the Privacy Sandbox was pitched as an alternative. This initiative invites web browsers, online publishers, ad tech companies, advertisers, and developers to submit proposals (such as FLoC, Fledge, and Turtledove) that rely on anonymized signals within a person's Chrome browser as a means to aggregate data on user browsing habits.
Data Clean Room
What It Means: A piece of software that enables advertisers and brands to match user-level data without actually sharing any PII (personally identifiable information) or raw data with one another.
Why It Matters: Provides a privacy-compliant matchmaking safe space where insights obtained from walled gardens can be joined with first-party data from advertisers. This is one of a few methods that marketers are considering for maintaining addressability without cookies and mobile identifiers. A few alternatives to this method include:
Server-To-Server Solutions (S2S)
Identity Management Solutions
Data Aggregators
Data-Driven Attribution (via Artificial Intelligence & Machine Learning)
Addressability
What It Means: According to our partners at LiveRamp, "Addressability is what connects advertisers and publishers to consumers across digital channels and devices." This concept basically refers to the ability to target specific individuals, rather than a large group of anonymous third-party cookie pools.
Why It Matters: Marketers, advertisers, and publishers will need to reconsider how to engage addressable audiences in a privacy-compliant way, and more importantly to work with data and technology partners who are solving the "consent problem" morally and ethically. Matched first-party data and universal identifiers are a couple of solutions, however, with the current landscape of walled gardens and content fortresses, this may be easier said than done. Collaboration in the buy-side/sell-side ecosystem is key to maintaining addressable audiences that are unified across platforms.
IDFA/ATT
Identifier for Advertisers (IDFA): A unique identifier for mobile devices that is used to target and measure advertising on a user level. With the iOS 14 update roll-out, Apple announced that users would now have the ability to choose to block the IDFA on their mobile device.
App Tracking Transparency (ATT): A feature that was introduced with the iOS 14.5 update that required apps to ask for permission to track a user's activity across third-party apps and websites.
Why They Matter: These initiatives have granted users more control over their data at the cost of previously popularized methods for tracking.
The Programmatic I/O Conference underscored how important it is to stay on top of consumer and market trends regarding programmatic marketing. Our team came back to Baton Rouge with new ideas for strategies to implement on
programmatic marketing
and
Connected TV
advertising for our clients all around the world. If you'd like to learn more about our services or our plans to face the future of digital marketing,
contact our team
at Click Here Digital at 225-383-0333!