The Power of Programmatic Advertising
Aug 29, 2019
by Director of DV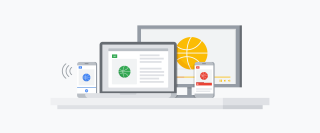 How many commercials, billboards or online advertisements have made you ask yourself, "How does this apply to me?" It's probably happened more times than you can remember. With Programmatic advertising technology, the question would most likely be, "How did the internet know I wanted this?"
While billboards and commercials have no precise targeting capabilities, programmatic advertising can trace each individual's interests and tendencies and evaluate them to ensure specific ads are served to a relevant user. You won't have to worry about uninterested audiences dismissing your ads as soon as they see them.
The possibilities of programmatic advertising go beyond showing potential customers a new product you are offering, though. It is also an opportunity to introduce a comparable product they previously may not have been aware of. If they aren't interested, this will provide real-time feedback and insight to determine if adjustments should be made to your campaign.
Programmatic Advertiser Benefits
If efficiency is the cornerstone of marketing, then ensuring your campaign budget is spent toward the right audience should be the primary goal. Google's Display & Video 360 (DV360) platform allows you to get as close to that goal as possible. Advertisers are able to buy ad inventory programmatically while implementing several targeting capabilities such as:
Apps/URLs - Where your customer views media
Behavior - What your customer does online
Contextual Keywords - What your customer searches for
Day & Time - When your customer views content
Demographics - Who is your customer
Geolocations - Where is your customer
Specified Categories - What your customer is interested in
The advantages of programmatic marketing extend much further than targeting abilities alone. As your programmatic campaign runs, you will have access to real-time reporting of the websites and apps your audience is being reached on, as well as the type of customer that is showing interest in your ads. With this insight into your campaign's performance, adjustments can be made for immediate optimization. This type of instant-information is not available through traditional means of advertising.
Programmatic Advertising Vs. Google Display Network (GDN)
A common comparison made for video & display advertising is the Google Display Network using Google Ads. These are actually two different concepts. Programmatic advertising allows ads to reach multiple networks like Google, Bing, and Yahoo all at once. Since Click Here utilizes DV360, websites and apps within the Google Display Network make up only part of the ad spaces available to us.
So what are the advantages of Programmatic Advertising over this medium?
Third-Party Data - Information about web behavior collected from outside sources. This data is broken down into thousands of audience categories, which vary from extremely broad to extraordinarily specific.
Reach - Programmatic advertising isn't limited to specific networks, platforms, or devices. Your ads will broadcast across more locations than ever before.
Targeting Combinations - Quite literally an infinite number of targeting combinations are available. With first- & third-party audiences to layer on top of the other options previously listed, it's just a matter of finding the right strategy for a successful campaign.
Simply put, the power of programmatic advertising makes marketing to your customers more precise than ever before. Want to learn more about how programmatic advertising can help your business grow? Get in touchwith one of our digital consultants today to get started.