Why Instagram and Facebook Advertising for Automotive?
Nov 21, 2018
by Director of Social Media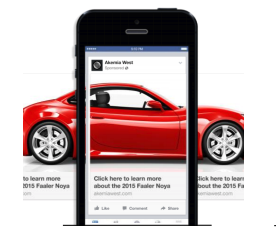 With the rising popularity of social media marketing platforms like Facebook and Instagram, dealerships have an amazing opportunity to connect with customers while building brand trust to retain business. The increase in mobile device use has taken this opportunity to connect with customers to the next level. Facebook says it best: "Give people the power to build community and bring the world closer together." [1]
The path to purchase for automotive is being reshaped by mobile usage and social media. Facebook and Instagram are at the center of this shift- this is where consumers share their lives and discover what matters most to them. If you are an automotive dealer, there is no better or more relevant place to reach your customers than where they hangout the most.

---

Why Choose Instagram and Facebook for Automotive Marketing?
Consumers are considering far more vehicles than before, but are visiting fewer dealerships, which means effectively marketing your car dealership in the digital world is more important than ever. Most, if not all, of a consumer's research and consideration can be done from home or while on the go, because the majority of it is happening on a mobile device. The increased time spent online and access to more vehicle information has reshaped the way people research and evaluate cars. Capturing attention and delivering the right message, to the right person, at the right time, is crucial.

---

Visually Bring Your Brand to Life
Your brand can really come to life with engaging images and videos. Facebook and Instagram are perfect platforms to do just this. These creative canvases are perfect for brand building and driving business results, and allow you to tell your story visually. You can capture people's attention quickly with graphics and text, sound, videos, hero images and engaging post copy. You can also create 360 photos or videos of your dealership space or even to highlight a specific vehicle, which is a captivating way to engage with your potential customers.

Did you know that Instagram is the fastest growing and the second largest marketing platform, second only to Facebook? [1] Instagram and Facebook advertising are integrated, which means all of the rich targeting capabilities that Facebook offers can be used on Instagram, too. People take actions from businesses they discover on Instagram. [1]

---

Precise Targeting Lets You Reach Your Ideal Audience
Facebook offers accurate and extremely precise targeting capabilities, so you can ensure your ads are being seen by a relevant audience. Facebook uses rich targeting capabilities that can target customers based on demographic, lifestyle and life stage, interests and intent, psychographic, geographic, your site visitors, your customer list, and 3rd party data.

---

Generating Leads Like a Pro
With the ability to submit a lead form with a few finger taps, sending information before you even step foot in the dealership has never been easier. When someone clicks on your ad on Facebook, the form automatically populates with their contact information that they shared on Facebook. This drastically reduces time and friction with completing online forms.
With Instagram and Facebook today, you not only have the ability to drive leads to your dealership, but you can create awareness for your overall brand and better reach your ideal target audience where they spend most of their time.

---
[1] Facebook Automotive Playbook (2017)