Why Your Holiday Season Advertising Needs to Start Now
Oct 30, 2018
by Director of Account Services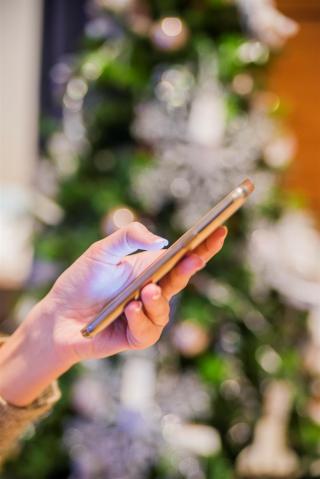 It is indisputable that the holiday season drives consumer behavior to new levels. All businesses must be prepared for the dramatic spike of sales activity Q4 and the holiday season. If you want to see a successful year end, the holiday digital advertising season needs to start NOW.

It is crucial that you prepare for the holiday season with an impenetrable digital advertising strategy to effectively reach their target audience when they hit certain digital touchpoints.

---
Not all months are created equal
"Equal" is usually a good thing. Not when it comes to advertising for your business in Q4. Q4 should receive a disproportionate amount of your time, attention, and funds in comparison to the rest of the year if you want to effectively capture your market during the busiest selling time of the year. Google advertising costs rise in Q4 due to increased competition and demand. If you are already spending digital budgets on Google and other search engines, we recommend you increase your spend to keep your current ad positions and conversions.

---
The importance of Facebook and Instagram Advertising for the Holidays
93% of shoppers will be connected to and interacting with technology, especially social media, during this year's shopping season. [1] Nearly half of holiday shoppers plan to use their smartphones and a fourth indicate they will use their tablets. 67% of people plan to use mobile to make a purchase, up from 57% last year. [1]

---
Grab people's attention where they hang out the most: social networking sites.
Throughout the 5-day Black Friday shopping period, there were 450 million views of Black Friday and other related videos on Facebook. [3] Wow. Let that sink in. These social media marketing platforms provide a great opportunity to showcase holiday-themed ads and highlight limited-time offers, which all create a sense of urgency to buy.

Advertising on social platforms like Instagram and Facebook provides an attractive, visual platform for your audience, and allows consumers to engage on a deeper level with your brand by the ability to "like," leave comments, follow, and leave reviews.

---
How do I get my business to stand out at a time when everyone is fighting to be noticed?
The competition really starts to sizzle during the holiday season, beginning in October and lasting through the end of December. How do you get your business to stand out from the others? Get the upper hand with deals, products, and a straightforward shopping experience.

Consumers are monitoring closely for quality, variety, value, and of course, price, when they shop during the holidays. Show them that you provide a variety of quality products for a fair price by making the shopping experience for consumers easy and painless.

Take away any parts of your processes that could cause confusion or friction. Long story short: offer captivating holiday incentives and make the purchase journey easy.

---
Holiday Shopping Facts:
5M plan to / are considering purchasing around Black Friday or Year End sales event [2]
There are 9 Million searches for sales, deals, and incentives Black Friday/ Year End (+/- 2 weeks) [2]
55% agree sales events are the best time to buy a vehicle [2]
It is without question that consumers, especially around the holidays, value incentives and other special offers- and plan to capitalize on them. The numbers speak for themselves; Consumers like to make purchases, especially big purchases, around Black Friday and Year End Sales events. This is the time to really dazzle your potential customers and get them in the door or on your website with appealing offers and savings. Shoppers have a tendency to stick with what they know - if they liked a place in the past, chances are, they will go back next year.

However, around the holidays, shoppers are willing to shop at new places-if given the right incentives. In fact, 75 percent of shoppers indicated a willingness to try other venues if given the right incentives including better prices, greater product selection, and unique offerings. [1] This means that along with constantly catching your audience's attention on social media, you need to make sure your website has a seamless UX and can be found on Google when users search for something related to your brand!

---
Effectively reach your in-market shoppers through YouTube
It is becoming increasingly more difficult to reach shoppers through TV advertising. The average time adults spend watching TV has declined steadily over the last 5 years. In fact, Youtube reaches more people in the US on mobile alone than any TV network. When it comes to most markets, shoppers particularly rely on online video to get the relevant information they seek.

Youtube is also a lot cheaper than TV- YouTube CPPs are 28% cheaper than TV. TVs targeting is not very sophisticated, reaching countless people that are not even interested in purchasing a car in the next 6 months. When you compare this to YouTube- where you only pay if the user engages with your ad-there is just no comparison. [2]

---
Keep a mobile first mindset with your advertising
Our phones never leave our sight and are usually are no more than an arm's length away. It may or may not come as a surprise that 56% of shoppers say they use smartphones when shopping in-store during the holiday season. In addition, 48% of holiday shoppers agree their mobile device allows them to make more informed purchase decisions during the holidays. [3] Using your phone for research and to assist in your purchase decisions is not only savvy, it's also convenient.

---
Shoppers set new shopping behaviors during the holiday season: Now is your chance!
During the holiday season in particular, shoppers are evaluating their purchases and changing their behaviors to become more efficient. Todays shopper wants a convenient and easy experience. Among those who say they develop new shopping behaviors during the holidays, 52% say they are finding new ways to save money. Another 49% say they are finding new ways to save time. [3] Ultimately- people want to spend less time and money getting what they want.
You need to be able to stand out from the crowd if you want consumers to recognize your brand and choose your business over the others.You can do this by starting early with your digital advertising, advertising on social platforms like Facebook and Instagram, engaging in YouTube and video advertising, offering holiday incentives, ensuring your Google Shopping listings are optimized for search, and streamlining the overall shopping process for the consumer. Because most holiday shoppers will shift between digital and physical channels throughout their entire shopping journey, streamlining the omnichannel transition experience will be exceedingly beneficial to everyone.
Whether you are automotive dealer, a small business owner, or have an e-commerce site, it is in your best interest to strategically increase your advertising spend during Q4, shifting your budget to keep up with the rising online and mobile shopping and research habits of consumers.

---