You Will Miss The Biggest Wave In Advertising If You Don't Shift Your Marketing Dollars to Connected TV
Mar 22, 2020
by Director of OTT/CTV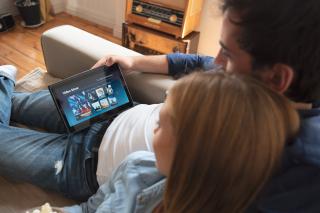 With cities on lockdown and the increasing closures of non-essential businesses, we are seeing an uptick in media consumption in other areas. Most notably through mobile devices and streaming and internet-connected devices and TVs. eMarketer predicts that digital media consumption will continue to increase significantly, just as we have seen in China. Amid the novel coronavirus outbreak, one of the most significant growth channels that we see an exponential increase in time spent is Over-the-Top streaming, online gaming, and subscription or video-on-demand services (SVOD/VOD).
"78% of US is now working from home"

- Google
As event cancellations continue, marketers and advertisers are pushing to explore digital alternatives that will reach those who are staying home to limit their social contact. Smart TVs, game consoles, and other streaming media devices will see a massive boost in viewership with their on-demand streaming services such as Amazon Fire TV, YouTube TV, Hulu, and Roku, creating a great opportunity.
"The largest shift in advertising dollars is happening now!"
CTV/OTT Fast Facts
• Roku: Nearly 1 out of every 3 TVs sold in the United States was a Roku Smart TV

• Amazon: currently has over 32 million US active users 

• Hulu: currently has over30 Million US subscribers

OTT is a young business, with several providers working to portray their business in the best light. This has led to confusion in the marketplace about who has the most scale.
• The only important metric is USAGE

• Amazon has the largest and fastest-growing user base in OTT

What is happening?
With millions of people working from home, advertisers are pivoting their strategy and moving their budgets from traditional media channels like Billboards, cable television, and radio to reach their audiences through Connected TV advertising.
On top of that, with the announcement of major professional and college sporting events being suspended or postponed -- this leaves the CTV/OTT space ripe with increased viewership and inventory for advertisers.
What does that mean?
If you spend money on billboards, linear TV, or radio the frequency in which your advertisement will be seen or heard will significantly drop as people are not going to be in their car to see billboards or listen to the radio while commuting to and from work.
There is no doubt that media being streamed on connected devices is going to increase. The question is, are you going to be agile enough and pivot your ad dollars in an exploding channel that's been ignored until now?
If you have questions about Connected TV advertising, reach out to us and we will be happy to answer any questions you have whether you are a current client or not. You can also call us at (225-383-0333).