Local Services Ads Are Disrupting Paid Search. Find Out If Your Business Is Eligible!
Dec 3, 2020
by Local SEO Specialist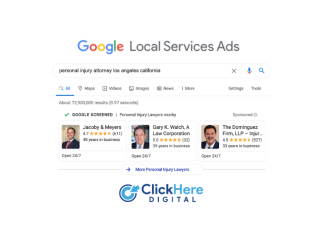 If you've searched for services lately, you have probably already seen a Local Services Ad - they show up at the very top of Google's search results, after all. These ads are located above all other paid ads, the map pack, and everything else in the search results. So, what exactly are Local Services Ads, and how do you get signed up for them? Click Here Digital can help get you started.
Local Services Ads are Google's newest ad type aimed to help local businesses connect with people who search on Google for specific services.
The main difference when it comes to Local Services Ads and other ads is that Local Services Ads will show up for customers in your service area, and you only pay if a customer calls you directly through the ad. This is different from traditional Pay Per Click advertising, in which you pay when a customer clicks on your link, regardless of if that customer ends up calling you or not.
With Local Services Ads, you pay per lead, not pay-per-click. With L.S.A.'s, you will be able to bid on a per lead acquisition basis rather than paying for clicks that may not turn into actual cases with your intake team.
Where do Local Services Ads display?
Google's Local Services Ads display on desktop, tablet, and mobile searches, appearing at the very top of the search results (above Google Ads and above the map 3-pack). Local Services Ads basically have the number one spot in the search results. These ads also have reached beyond traditional search ads.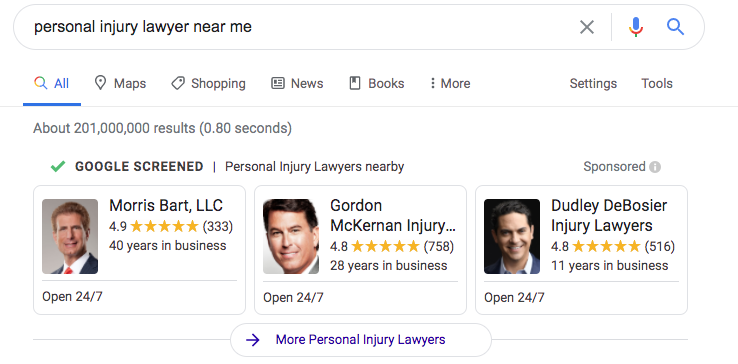 Who is eligible for Local Services Ads?
Currently, Local Services Ads are only available to select verticals. Select Law Practices and Attorneys are eligible, including Personal Injury Attorneys. Several other verticals such as realtors and financial planners, as well as, HVAC repair and maintenance, electricians, and locksmiths are also eligible. Keep in mind that in order to become eligible for Local Services Ads, you must first complete a verification process to become Google Screened.
What is Google Screened?
Google Screened businesses have a green check icon next to their name to let people know they are verified and a trusted business by Google. Businesses with this badge go through extensive background and license checks through a third party service provider Google works with.
Read more about Google Screened and how it can benefit your business
on our blog post.

How do I get started with Local Services Ads?
Wondering how to get started? Follow our simple steps below to get started with Local Services Ads today:
Contact Click Here's Local Services Ad Experts
Become Google Screened
Complete any additional necessary license and insurance checks, based on the business category.
Ensure the business has a three-star rating or higher on Google to qualify.
Appear in Local Services Ads!
It is important to note that many agencies do not offer Local Services Ads for their clients. Properly managing these ads is a very manual and time-consuming process, and as a result, very few agencies even offer this service. Our team of always-on digital experts at Click Here Digital is proud to offer Local Services Ads for our clients. Get in touch with us to learn how!
Our digital consultants at Click Here have been in the digital game for 27 years, testing Google's newest products before they are even released to the general public. Our team has been working on how to get the most out of Local Services Ads for our clients since before these ads even hit the market - and notifying clients as they are available in each market. We know how to get the most out of your advertising spend, and get the most out of digital advertising for your business. Let us do the work for you-
get in touch with our team at Click Here Digital today
to get started with Local Services Ads.
Read our blog on Google Screened to learn more.