SEOblog.com: Click Here Digital Named Top SEO Company in 2022
May 30, 2022
by Click Here Digital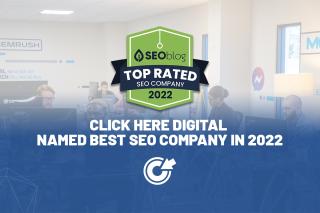 Click Here Digital is proud to be named in the top
15 Best SEO Companies in the United States in 2022
by SEOblog.com! We were also recognized by SEOblog
for our work in 2020
! We've been working hard in the digital marketing space for 29 years and really focused on providing the
best SEO services as an agency
, so we're happy to be recognized by SEOBlog, a key publication in the SEO space that helps companies that need digital marketers find the best SEO firms. Click Here Digital was also featured in SEOBlog's lists for Best Local SEO Companies, Best Social Media Marketing Companies, Best Search Engine Marketing Companies, and
many more
.
SEOblog evaluates digital marketing agencies based on a number of significant factors, including website rankings, industry recognition, service scalability, and more. Thanks to over
500 5-star reviews
from our clients, three decades of digital marketing experience, industry recognition from the likes of Google, Facebook, and others, and our proven active management style, we've been
accumulating awards
for some time.
When you're ready to supercharge your digital marketing through
SEO
,
paid search
,
social media
,
streaming TV
,
display and video
advertising, and more, give us a call or reach out online for a demo of our services.