Why display your inventory on Google's Cars for Sale?
Apr 22, 2022
by Click Here Digital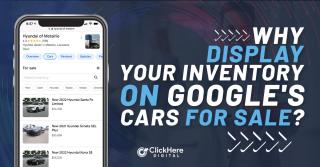 Why display your inventory on Google's Cars for Sale?
Since we last announced Google Business Profile's automotive feature, called Cars for Sale, the platform has experienced significant progress. Now that the feature is out of its closed Beta, more dealers than ever before have access to this exciting new technology through automotive digital marketing agencies. Dealerships that opt in to this new organic search feature will be able to post the cars, trucks, and SUVs that are currently in their inventory on their Google Business Profile!
The Benefits of Cars for Sale on Google Business Profile
The data is clear: Google holds over 85% of the market share in United States searches, and when people are in the market for a new car, they want to see the inventory that's available to them right away. If you want to reach your customers where they are online, you need to minimize the number of clicks, presses, and swipes they need to find a car they want to buy.

When you enable Cars for Sale, your customers will be able to see your inventory feed directly in your Business Profile when they search for you. They can also filter by make, model, year, and more, so they can find exactly what they want. When they click, they'll be taken to the inventory page for that vehicle—where your site's Calls to Action will take care of the rest.
Where Your Cars for Sale Inventory Will Be Shown
Cars for Sale inventory will appear in your Google Business Profile listing, both on mobile and desktop searches. Google promotes that their internal studies show the Cars for Sale feature increases conversions and sales, leading to increased profit for you!
Google Organic SEO Lift & GBP Car Inventory
It's always good to leverage all that Google has to offer, as many Google Products communicate with each other. Will you get higher organic rankings if you use GBP inventory (or VLA ads)? We can't be sure until we try, but if history has any indication of the results, we strongly recommend leveraging this low-cost feature. Sending more signals to Google about your business, especially your inventory and products, is highly recommended as an overall part of your SEO strategy.
How Can I Sign Up for Cars for Sale?
Cars for Sale on Google Business Profile had been in closed beta for some time, but recently Google has opened the feature up to any dealership that's interested—though you still have to sign up through an interest form. A few caveats:
This program is still only available for dealers in the U.S. Presumably, the rest of the world is forthcoming.
You'll need to share data about your inventory with Google. If you already have a Google Business Profile and inventory feed set up (which you probably do if you're interested in this feature), you probably already share the data they need.
While you're waiting on Google to set up your Cars for Sale, you can call Click Here Digital to discover your next steps to get started! You can also contact us any time and schedule a demo of our services to see how we can improve your dealership's ranking.