Why Advertise on YouTube TV in 2023?
Feb 24, 2023
by Director of CTV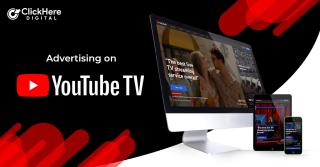 Over the past 10 years alone, TV viewership has drastically shifted away from traditional TV and more toward Over-The-Top (OTT) and Connected TV (CTV) streaming services. Not only are more people using CTV, but time spent watching continues to increase, which means you probably need to start thinking about
OTT advertising
and
video advertising
for your business if you haven't already! In 2023, the number of non-cable TV users (utilizing streaming platforms) are
estimated to outnumber traditional TV users
for the first time.
Along with increased viewership, CTV advertising spend has almost tripled since the pandemic began.
---
What Is YouTube TV?
YouTube TV
, first launched in April 2017, is
a subscription streaming service that provides an alternative to traditional cable with live TV from over 100+ broadcast, cable, and regional sports networks as well as on demand shows, YouTube originals, and trending YouTube videos.
Some of the networks available include ABC, Showtime, Fox,
ESPN
, NFL Network, and much more.
Using a form of OTT advertising, YouTube TV delivers ads directly to viewers over the internet through streaming video services or devices. With YouTube TV, we can tap into the most premium CTV inventories to reach target audiences at a scale, with robust data, optimizations and reporting.
---
YouTube TV vs YouTube On TV: What's The Difference?

The difference between YouTube TV and YouTube on connected TV is that the YouTube app allows users to watch YouTube content on their device at no cost, but YouTube TV is a separate app that requires a paid subscription and offers live TV streaming from popular cable networks. Neither of these apps are exclusive to connected devices.
---
What are the Benefits of Advertising On YouTube TV
YouTube TV has also seen major growth in the past two years, with an 80% watch time growth year over year, with the average daily logged-in user in the US spending 3.5 hours per day streaming YouTube and YouTube TV on connected TVs. More interestingly, up to 60% of YouTube TV subscribers can ONLY be reached through YouTube TV, meaning you could be missing out on a huge part of your intended audience if you aren't advertising on Youtube TV!
Targeting Capabilities

Geographic Targeting
Demographic Audiences
In-market Shoppers
Device type
Top Performing Keywords

Access Premium Inventory

Access over 100+ broadcasters ranging from ABC and FOX to CNN, as well as premium publishers, cable and regional sports networks.

Multiple Ad Formats & Video Lengths

Ability to utilize both non-skippable ads (15 seconds or less) and bumper ads (6 seconds or less) to maximize your reach.

More Creative Freedom

Grab viewer attention with one-of-a-kind, engaging video creative.
We can even create the videos for you!

Appeal To Multi-Screen Viewers

When viewing YouTube on CTV devices, the majority of viewers use a second screen.
YouTube TV Encourages users to research your brand on a secondary screen (smartphone, tablet or laptop) by including visible URLs.

Cost Effective For Your Marketing Budget

Real-Time Transparent Reporting

Provides real-time analytics through DV360 & Click Here Digital Portal
---
How to Advertise on YouTube TV?
It's simple! Partner with a professional agency, like Click Here Digital! Our experts will not only be able to set up and handle all of the features YouTube TV has to offer, but they also have the skillset needed to optimize them just for you and your business! With CHD, you'll get the following and much much more!
Exclusive Placements
It's no secret that our teams at Click Here Digital have expert knowledge on all things digital marketing. But you may not know is that we also have exclusive inventory and placements that most advertisers don't have access to, which will help give you an edge over your competition.
Instant Reserve Option
Click Here Digital has
exclusive access to Google's New Instant Reserve Option
! This allows us to get your ads live quickly and more effectively, which in turn fast-tracks visibility and more website traffic. As a
Google Premier Partner
, we also have dedicated Google support for all Youtube TV campaigns.
Qualified Media Buyers
We know how valuable your time and advertising budget are. That's why we will give you a dedicated Programmatic Analyst to own and optimize your account to leverage the most ROI.
Detailed Reporting Insights
Click Here Digital offers additional reporting insights through our personalized and Click Here's proprietary Digital Portal, ClickIQ™. Through ClickIQ™, you get instant access to your YouTube TV Reporting. Available campaign data includes:
Impressions
Clicks
Completed Views
Daily Views
Average Cost-per-View
Average Cost-Per-Completed-View
With a presence nationwide and a team of dedicated remote members all across the country, Click Here Digital has been the go-to partner for businesses looking to enhance and grow their online presence for many years. Learn more about the
difference between OTT/CTV and traditional TV adverting
or if you're ready to get started with YouTube TV advertising, give us a call or
schedule a demo
today!