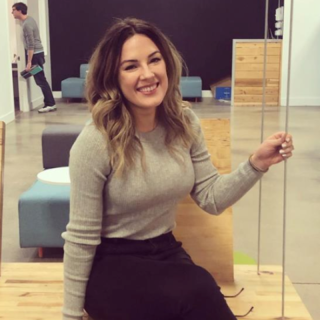 Holly Hingle
In the digital marketing arena, there are few who can match the creative vision and talent of Holly Hingle. She blends her innate talent and digital expertise into the perfect storm of relentless creativity and marketing knowledge, creating comprehensive strategies for Click Here's clients that help them grow into the future.

Even though Holly is our Executive Vice President, she isn't your average executive. Her hands-on approach to managing ensures maximal team cohesion while constantly evolving the ways in which we use data science to improve client outcomes. As a true example of servant leadership, Holly disseminates full-scope, innovative strategies that have resonated with the diverse staff at Click Here, and has worked within each team to improve their internal processes and their integration with the company's goals.

Holly is also certified in Lean Production and Six Sigma processes, which allow her to specialize in executing improvement processes at Click Here, collaborate with Directors and fulfillment, and develop agile, data-driven solutions to meet our clients' business goals. Other certifications include Google Analytics, Google AdWords, and Facebook Blueprint.

Holly's digital marketing expertise spans more than 5 years in high-value industries, from automotive to e-commerce. Before joining Click Here Digital, Holly worked as a marketing consultant, creative consultant, graphic designer, social media specialist, and more, for industries ranging from estate jewelry sales and beauty franchises to the 27th-largest broadcasting region in the U.S. This deep media knowledge has led to Holly's expertise in omnichannel advertising, skills she has put to good use at Click Here.

A native New Orleanian, Holly earned her undergraduate degree from Louisiana State University School of Architecture. During her tenure at Click Here, she's built an enriching career as a creative consultant and critical player.